Paw Patrol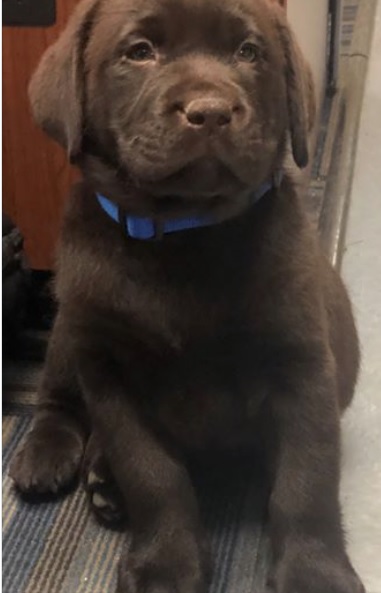 The Douglas, MA police department just recruited its newest member: two-month old chocolate Labrador Retriever K-9 Finn.
 Chief Nick Miglionico said that the puppy will be trained as a Therapy/Comfort Dog and will spend most of his time visiting local schools, adult social center, library and other community events over the next year. For the next couple of months, though, he will be spending most of the day at the police station getting adjusted to his new environment. At night, he will go home with the school resource officer, who will be the puppy's main handler.
 Miglionico added that the Douglas PD plans to use him mostly in the schools with the kids as a community outreach. He'll be used in different therapeutic ways, internally and externally, because a dog seems to put a smile on someone's face, which makes K-9 Finn versatile for both inside and outside work.
 Puppies in police departments is a trend that is gaining in popularity lately. K-9 Finn was donated by breeders Peggi and David Brogan of Boonefield Labradors, which is based out of Riddge, NH.
 The Brogans have seen firsthand the comfort that dogs can bring to all kinds of people, and their hope is for the dogs they breed to be donated to police departments. Peggi Brogan said that dogs bring a sense of calm and comfort to not only the general public but to the officers and departments that have them. She added that she and David would like to see it happen in a lot of towns and they are prepared to make it happen.
 The Brogans are committed to making sure that each police department that wants a comfort dog can have one because they say there is no limit to the impact that can be made. 
 From the looks of Douglas PD's social media accounts, the Brogans are on to something. Miglionico said he's grateful for the organization and that K-9 Finn is right at home at the station.