Jed Hoyer: Chicago Cubs President of Baseball Operations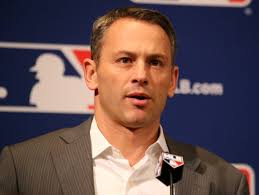 The 2020 season for the Chicago Cubs was full of changes due to the current pandemic, and fans were warned of more changes to come regarding the roster due to expiring contracts next season. The Cubs have already declined Jon Lester's contract and have signed Anthony Rizzo for only one year signaling that roster adjustments will be numerous in the near future. Another change came on November 17 when Theo Epstien, the president of baseball operations, stepped down. 
Jed Hoyer has been promoted to the position of president of baseball operations after serving as the team's general manager since Epstien started in that position in 2011, reports ESPN. The Chicago Cubs agreed to a 5 year contract with Jed Hoyer on November 23. He played baseball at Wesleyan University in Connecticut, and was a part of the front office for the Boston Red Sox working alongside Epstein, according to ESPN. Being a part of these teams fostered Hoyer's appreciation and passion for the game and provided him with a forming legacy as he moved on to the San Diego Padres and eventually, the Chicago Cubs.
Hoyer's focus on analytics and decisiveness will play an important part of the changes that occur during a pandemic season. As the transition was announced, multiple baseball leaders, not only those for the Cubs, have expressed confidence in the success Jed Hoyer is going to have leading the team. Tom Ricketts, the chairman of the Chicago Cubs, expressed to ESPN "My family and I believe he is going to be an incredible baseball operations president and Cubs fans have one of the best in the business leading the team to continue our commitment to sustained success". Mike Hazen, the general manager of the Arizona Diamondbacks, wrote to ESPN sharing his view of how Hoyer would perform leading Chicago's team. He wrote, "Jed carries himself with the utmost humility and professionalism, and always knows more about his team, and, usually, your team than you do. He made a lot of really good moves in San Diego and will certainly do that again here". Ben Cherington, general manager for the Pittsburgh Pirates, highlights Hoyer's passion for baseball by telling ESPN "He loves talking about the game with anyone else who is interested in the game. Doesn't matter who you are or where you come from. We used to joke that if he found a tree that really loved the game, he could strike up a conversation with the tree".
Theo Epstien is projected to be in the Hall of Fame and therefore, following his time leading the Cubs will not be easy. But, Jed Hoyer is prepared to make his own legacy. Even though they have worked together for a long time, Hoyer has told ESPN "we're different people. Different personalities. I can't be someone I'm not. I can't try to act like Theo. I have to act like me".
Between changing rosters and management, the Chicago Cubs have an interesting road ahead to next season. With Jed Hoyer being president of baseball operations, fans will see more changes but as many have expressed, Jed Hoyer is the right man for this job and hopefully he will bring a lot of success to Chicago.