Before gaining the title, all-state athlete, senior Paige Caruth was just an average cross-country runner trying to find her way in a physically and mentally demanding sport. Caruth started her athletic career with playing basketball and soccer at Antioch Upper Grade School. Her passion for running did not quite click until she found early success in her freshman year of high school. When Caruth first joined the cross country team at Lakes Community High School, she was just doing it for fun. However, her athleticism gave her the opportunity to run on the varsity roster as a freshman.
On August 25th, 2020, Caruth ran her first cross country race at a length of 2 miles and placed 6th with a time of exactly 14 minutes. Being one of the younger members of the team, along with her teammate, Madison Twarling, this was a big accomplishment. To end her freshman season, Caruth placed in the top 40 out of 113 at sectionals. When asked about her freshman personal record (PR), Caruth remembers running about 21 minutes for 3 miles.
Building from the success of her breakout freshman season, Caruth was just as successful in her sophomore year. At sectionals, Caruth placed 38th out of 236 and had a 3 mile time of 18:27.
"When we are in a meet it is is our time to show everything we worked hard for," Caruth said
Even being young, Caruth had many goals set for her future. Going into her junior year, things started to take a turn. On August 21st, 2022, Caruth ran a time of 19:50 placing 4th overall. This was a good way to start off her junior season. Caruth continued to train, stay motivated, and set new goals for every meet. Setting new goals allowed Caruth to finish 1st at the 2022 NLCC Cross Country Championship. This was not a surprise to coach, Chrstine Zucker.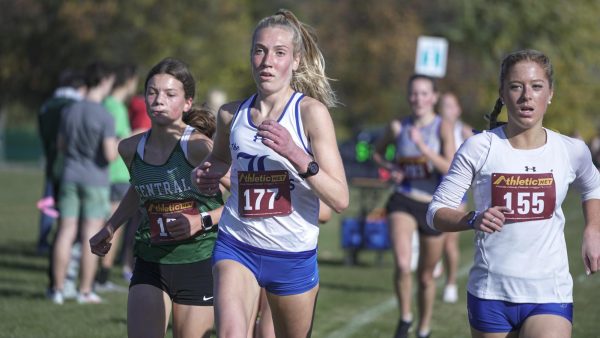 "As Paige has grown she has become self-motivated," Zucker states.
Caruth's win in the NLCC Championship was a building block for what she believes is her biggest accomplishment to date. In the 2022 IHSA Sectionals, Caruth ran a personal record of 17:33 and was the leading runner for the Eagles.
"I realized that I loved to run, put in the work, then figured out how important training is and doing all of the little things such as hydration, fuel, and sleep," Caruth said. In addition to the physical training, Caruth also states that, "having a positive mindset that if you work hard and put in the time and effort you can do anything."
Caruth is always striving to be her best, whether that be for practice or competing for a state title. All athletes can have rough days either mentally, physically or both. Currently, Caruth is working through a hip injury but still continues to push herself. As Coach Zucker notes, "If she isn't 100 percent she still continues to strive for it," said Zucker. This is what makes Caruth great.
After high school, Caruth still plans to continue her outstanding cross country career. She also plans on running track at the collegiate level with the intention of studying exercise science as her major. However, before she heads to the next level, Caruth is hoping to add another all-state title to her cross country resume.