A few girl cross-country runners ponder their 'right way to run.' Through interviews, we learn more about runners, runners' perspectives on running, and how they get from start to finish, in their own way.
After viewing a novice and advanced runner on a TikTok on my FYP, there was a noticeable difference. The novice appeared as if they were slapping the floor, fighting against the elements. The advanced glided across the pavement, in control of themselves and their surroundings. Considering this, there begged the question of whether there was, in some way, a correct way to run.
In an effort for answers, some girls cross country runners were interviewed on their 'right way.'
Being the first presented with this idea, Brianna Gara claimed, "there is no right way to run."
Gara, despite there being no 'right way to run,' said that she had "tremendously improved from her start before high school to now." Gara said that this was because "running is all about healthy mind space."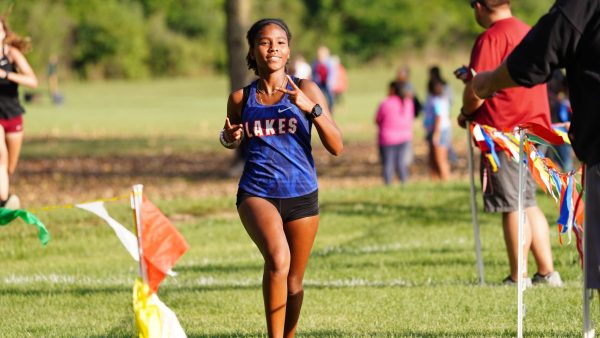 The growth of one's stamina is a large contributing factor, but the largest, according to Gara, is mental. Gara mentions that "every time before a race I eat two pieces of toast." This tradition likely helps her be more energized for her coming competition and gives her an extra boost to her morale, putting her into the running mindset.
Adelina Guzman would likely half agree with this statement. To her, the best way to run is "mak[ing] your own steady rhythm." You would do this by, "breath[ing] in with your nose [and] breath[ing] out with your mouth."
Guzman's previous statement, being more physically based, contrasted her previous statement by adding that you should, "push through the urge of wanting to stop running, especially in a race." This again shows the prevalence of a healthy mind space in proficient runners.
She also has a tradition before a race which all her team members share. She mentions that "we all make this huge circle where…we alternate between the responses 'team' and 'family' together." She states "It really gets us excited and pumped up for the race!" This likely helps her and all of her teammates' morale minutes before a competition.
Being able to keep motivated is not only important to Guzman but also to Hannah Rojas. To her, "the key point to running is to push yourself." She highlights the mental importance but then emphasizes the physical, providing that, "you [should] find a rhythm that works for you"…" making sure to move your arms and to pick up your legs as well as keeping your chest up to breathe."
Then, just like in the beginning, Rojas claims, as Gara had said previously, that there is 'no right way to run.' She explains she "feel[s] like the right way to run differs slightly for each person."
Considering the array of responses garnered so far, trends could be depicted but all differed in their ways. To some, maybe physical was over mental, or vice versa, but all seemed to feel like they were possibly hit with a loaded question.
It is easy to assume that all runners can agree that from these responses one can understand that the biggest factor is not giving up, but in reality, the 'right way to run' is simply your right way.
For all runners, there is no right way; there is simply their way.