Asian Harbor Review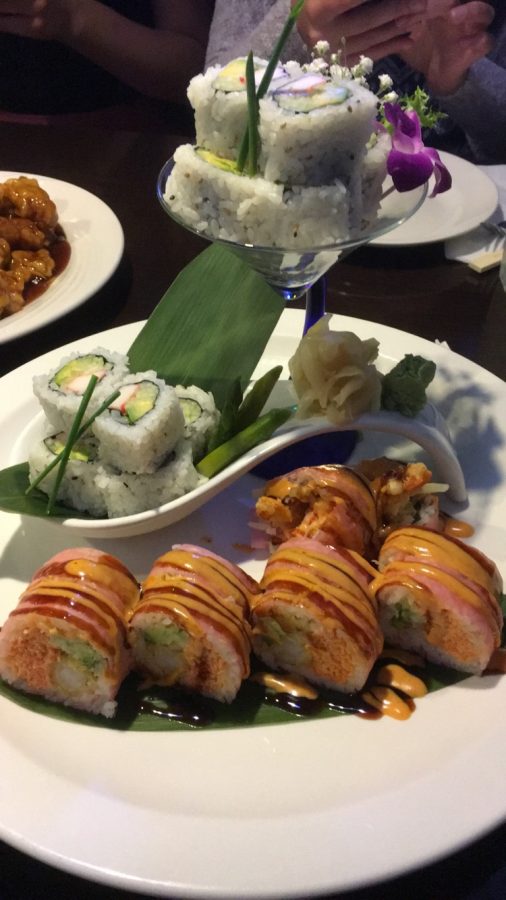 Abby Vanderwall, Features Editor
October 28, 2016
As an avid sushi-lover, I'm always looking for a new place to get a good california roll. I first heard about Asian Harbor in Antioch from my friends. They raved about the amazing fried rice and broad variety of sushi rolls as well as other types of food. The other day I experienced Asian Harbor for the first time, and overall it was a great restaurant that I would recommend others to try.
When I first pulled up into the strip mall in Antioch the outside of the restaurant looked pretty sketchy. It looked like a place I would get food-poisoning from. However, once you walk inside the ambiance is inviting and the whole place is so cute. All of the tables and the floors were clean, and the service was nice and welcoming.
When I sat down, the first thing I noticed was the food on the table next to us. It was a large group of people surrounding a small wooden boat covered with sushi. The presentation was clearly extravagant and creative, and the sushi looked fresh.
As I opened the menu, I was pretty overwhelmed. There were pages and pages full of different appetizers, sushi rolls, salads, and raw or non-raw fish meals. If I didn't have a friend with me who is a frequent customer, I would've been lost. I ended up ordering the Pink Lady sushi roll, and my friend and I split a plate of Japanese Fried Rice.
The prices were pretty standard. My sushi roll entree came with 10 pieces for $13.95 and the plate of fried rice was $9.95. I originally thought the rice was expensive but when the plate came I understood why the price was what it was. The plate was gigantic and completely covered with rice. I would definitely recommend sharing it with someone else, especially if you're getting another dish. All in all, you're getting your money's worth of food.
The sushi came on a long, square plate with several large rolls and decorated with a sauce drizzled on top and a flower on the corner of the plate. I absolutely loved the presentation and the taste was even better. I could tell it was freshly made and each bite was crisp and flavorful. The rice was also delicious, and it lived up to my expectations based on the hype that I previously heard.
Leaving the restaurant, I was very pleased with the experience. It was an enjoyable environment and the food was great. I will definitely go back to Asian Harbor again and I highly recommend others who like sushi to try this charming local restaurant.