Pet Friendly Menus: The Perfect Op-PAW-tunity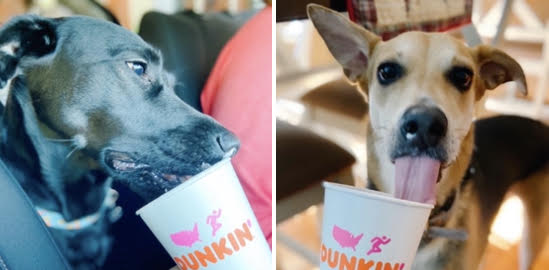 If you are like me, a morning trip to Dunkin' or Starbucks has become routine. But did you know that along with iced coffees, frappinchos, and cold brews, you can get a delicious treat for your pet? It doesn't just stop at coffee shops- many of your favorite restaurants may also have something on the menu for our furry friends.
Dunkin' Donuts and Starbucks offer similar products to customers who bring their dogs to order, for no extra cost. Even though it is just whipped cream in a cup, the "puppuccino" from Starbucks and  "puppy latte" from Dunkin' will definitely make your dog's day. In the past, Dunkin' has also partnered with local animal rescues and supply companies to help raise awareness towards animal cruelty and the importance of adoption. Through these sponsorships, you can purchase all kinds of Dunkin' merch (toys, sweatshirts, collars, leashes) for your pet.
Some other restaurants that you may visit also have a "secret" menu for their four-legged customers. At some locations, Chick-fil-A will handout homemade treats to pets waiting in the drive-thru. Dairy Queen makes a frozen treat for dogs called the pup cup, which consists of vanilla ice cream in  a small sundae cup topped with Milkbone, perfect for the dog days of summer. Another tail-wagging favorite is Pooch-ini, vanilla custard topped with peanut butter sauce, and dog biscuits from Shake Shack.
The Lazy Dog Restaurant in Vernon Hills is known for its love of pets- especially dogs. Customers are encouraged to bring their pets to their pet-friendly patio where they can interact with other pets and enjoy a meal of rice and a piece of beef. In-N-Out also offers patio dining and a plain hamburger patty for their furry friends as well. Many pet stores are also expanding their experiences for pets that come in to shop. For example, Pet Supplies Plus in Gurnee offers gourmet cookies and other baked goods for pets that look just like the real thing, such as donuts.
Next time you go out to your favorite restaurant or grab your morning coffee, bring your pet with you, because chances are there may be something for them as well.