Holiday Drinks to Look Forward to at Starbucks
From Pumpkin Spice Lattes to Peppermint Mochas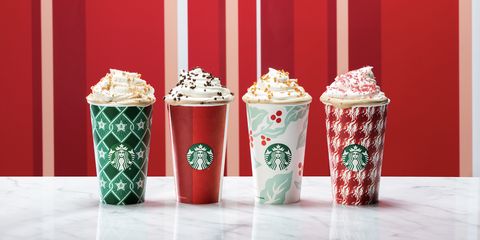 It's that time again! Coffee lovers, get excited for the new holiday drinks coming to Starbucks this season. Get away from those Pumpkin Spice Lattes and get ready to hold a warm cup of new flavors to get you in the holiday spirit.
Starbucks will be reintroducing their Chestnut Praline Latte and Peppermint Mocha, of course. But there is rumored to be a new 'Irish Cream' Cold Brew coming to the menu. It is believed that this flavor will be available on December 3rd and will be replacing the Gingerbread Latte.
Along with drinks, Starbucks never disappoints with their trendy cups and mugs. The company has outdone themselves and impressed us all with their eye for style. On November 7th, you'll see an iridescent cold cup decked out in bling and platinum, a mirror glitter gold cold cup, a pink cold cup, a green confetti tumbler, a glitter gradient pink cold cup, and a gold water bottle.
Make sure to get to your local Starbucks this holiday season to enjoy the new and classic flavors.