The Future of the College Football Playoff
With the stage set for this year's college football playoff to kick off December 29th, the current formatting of the CFP has sparked outrage in the college football world. Deserving teams such as UCF, Georgia, and Ohio State, were left out even after putting up a playoff-worthy resume and effort. In response, fans, players, analysts, and coaches have used this most recent example as the driving force in the argument to install a new, eight-team playoff. 
Comprised of over 100 teams whom only compete in 12 or 13 match-ups a year, the current proportion has proven the number of games played does not support a fair talent evaluation among the hundreds of colleges vying for a spot in the playoff. The stats speak for themselves as one team can demonstrate their abilities against only 10% of the entire competition. This results in many teams who don't have common match-ups to compare, but at the same time, in the sport of football, players face brutal conditions on a week to week basis. Thus a potential solution of a 20 or 30 game season seems completely unrealistic. Alternatively, figures in and around college sports have proposed a potential expansion of the playoff to solve this problem.
Since the debate stems primarily from schools who should be competing for a title this year, but aren't, because of the current college football landscape, the most passionate 8-team playoff advocaters are representatives from UCF, Ohio State, and Georgia. All schools that just barely missed out this year, despite the fact they each had just as compelling an argument to qualify as the official final four.
For some background, the college football playoff committee considers the following criteria in determining the four best teams: conference championships, strength of schedule, head-to-head competition(if applicable), and comparative outcomes of common opponents without incenting margin of victory. Chairman Rob Mullens also stresses the importance of getting the four best teams in. However, Alabama, Notre Dame, Clemson, Oklahoma, Ohio State, Georgia, and UCF had just a few common opponents, because of the aforementioned skewed and unfixable college football landscape. This leaves next to no data to be observed without existing head-to-head match-ups or common opponents for comparison, thus why there is a widespread belief that an 8-team playoff can solve this problem.
In this year's slate of games, Alabama was the best team- by far. The Crimson Tide were unanimously voted as #1 in the polls week after week. But there's the argument that all six challengers behind them deserved to make the CFP. At the same time, it's extremely difficult to say any of those six teams didn't deserve to make the Playoff. Meanwhile there's no fair way to determine which three of the six are more-deserving than the others. However, with an 8-team playoff all these schools that earned the right to compete for the Championship will be given that opportunity.
Big Ten Commissioner, Jim Delaney, is strong believer that an expansion would resolve this problem, hinting a near-threat in that, "The Big Ten would be happy to discuss structural issues with colleagues…[We] would definitely have conversations". Not only is Delaney's intent real, it's also been met with incredible support almost instantly after he released the statement. It very well could be just one of the many signs that suggest a revamping of the College Football Playoff upcoming in the next few years.
About the Writer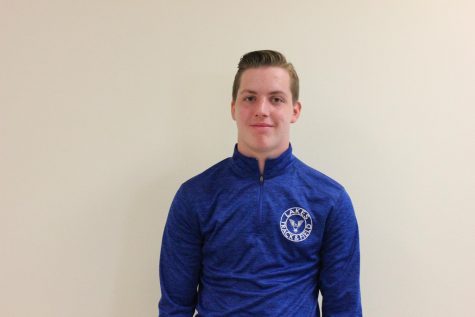 Jacob Brooks, Sports Editor
Jacob Brooks is currently a junior at Lakes and is involved in many activities after and outside of school. He is on the soccer and tennis team, and joined...