Brian Kelly joins LSU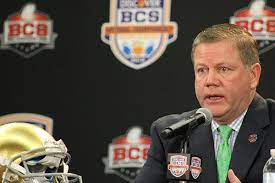 Brian Kelly joins LSU
Brian Kelly, the former head coach for Notre Dame, shocked fans and students when he abruptly transferred to Louisiana State University (LSU). Why would Brian Kelly leave the highly successful Notre Dame for an underperforming LSU?
Kelly has spent the last 12 years coaching at Notre Dame and led the team to two playoff appearances. On November 30, 2021, LSU posted to their twitter @LSUFootball "The Search is Over…Brian Kelly has been named the next LSU Football coach". This shocked many Notre Dame football fans due to the success Notre Dame has been seeing this season. Notre Dame is the current leader in their conference (independent FBS) with a record of 11-1 and only losing to the Number 3 seed Cincinnati (24-13). LSU this season has been suffering, currently sitting bottom of their conference (SEC West) with a record of 6-6 losing to 23rd seed Arkansas (16-13), 25th seed Kentucky (42-21), and 8th seed Mississippi (31-17).
SportingNews released Why is Brian Kelly leaving Notre Dame? LSU poaches Fighting Irish coach to SEC on December 1. The article gives SportingNews' point of view and possibly the main reason Brian Kelly left the 11-1 Notre Dame. It is speculated Kelly left because the LSU team will better perform in playoffs and championships. SportingNews brings up the score from the two major bowl appearances Kelly had with Notre Dame in 2018 (Cotton Bowl) and 2020 (Rose Bowl). The 2018 Cotton Bowl saw the #2 Clemson Tigers destroy the #3 Notre Dame Fighting Irish (30-3). Two years later we see the #1 Alabama win against the #4 Notre Dame (31-14).  
Kelly has made a bold decision to transfer schools midseason but has the potential to build a strong and impactful team at LSU. Kelly could turn the tide for the LSU Tigers and bring them to another National Championship.