A 15-year-old's ability and physical strength don't usually compare closely to that of a 17- or 18- year-old. But Dillan Davis is different. From playing up varsity mid-freshman year to starting varsity during his sophomore year, he has shown that stereotypes aren't always true.
Davis has been playing football for 12 years. He started at age 4 playing flag football, soon moving up to play PeeWee for the Antioch Vikings. Through the years, he cycled through Antioch, Lake Villa, and Kenosha football teams. He has always looked up to those who have the same dreams as him. "[Micah Parsons] is a really good leader of the Cowboys. And [confidently] plays almost every single position," Davis said. "I'd really like to do that in the future."
He has always looked to his coaches for help and mentorship even throughout his younger years. "I was trying to move around, but I'm not that kind of player," Davis said. "[So my coach] showed me a couple of videos of players like running other players over so I tried to base my game off of that and then that same practice, I improved a lot and I was hitting a lot harder."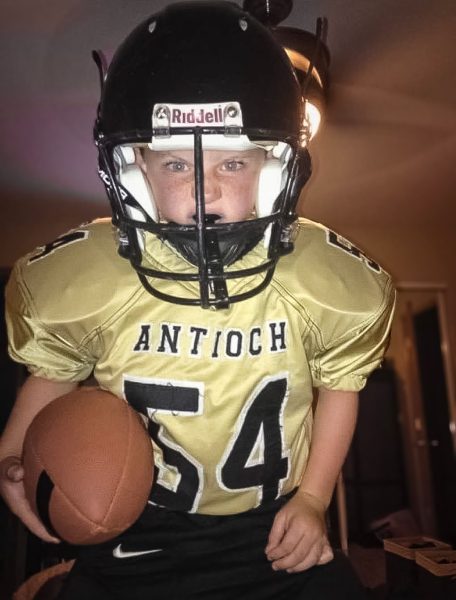 His coaches always saw potential in him, and he became the player he is now.
Davis started his high school career on our Frosh/Soph team, being at the bottom of the pyramid. He has played for years but was placed on a team with many skilled players who have also played for years. Even though he was young, he was still watched by coaches to see his skill set and character growth. Through the season he really branched out, and according to Gialo, didn't "shy away from" competition. This one thing showed the coaches that he was ready and possessed the traits to earn this opportunity.
"Last year when it was time to bring Dillan up, I think he showed an ultra-competitive drive," Coach Ray Gialo said. "Dillan's a guy that enjoys that contact [and] is willing to be physical." Having about 30-40 players on the Frosh/Soph team, the coaches deemed Dillan deserving of an opportunity as big as this one. He has yet to let them down and has played up to the expectations of the coaches. He continues to play up, having this be his second year playing up on Varsity as an underclassman.
Dillan is a very motivated kid. He sees something and he works as hard as he can to achieve it. He does not shy away from failure, he looks it right in the face and conquers it. "At such a high level, I think the future is really, really bright for him, I think his senior year can be outstanding. And really, he can achieve whatever he wants to achieve," Coach Gialo said. "[There are certain characteristics sought out] that sometimes are beyond our control. But as far as his playing abilities, his strength, his work ethic, and how he does things, he 100% is a college-level football player, if he wants to be." Gialo and the coaches had been seeking out a player with a good work ethic and care, and they managed to find that with Dillan, and he only plans to keep growing.
"I'm focused on this year still, [but] I would like to think my teammates are going to improve drastically as well as me [in the next season]," Davis said. "I think [the team] will improve a lot next year compared to this year."
Davis is definitely someone to watch out for in the coming seasons. Working hard during the off-season, he continues to grow mentally and physically stronger.