Love Yourself as You Are
"Authentic, powerful, raw." Those are a few adjectives famous women are using to describe themselves in photos … photos that haven't been photoshopped or touched up. This is a trend we've noticed on social media lately, and we like it!
Demi Lovato, singer and activist, is a big supporter of going "au naturel" and being kinder to herself and her body. In a recent pic she posted on Instagram showing her untouched self in a bikini, she said that this was the real her. "I love me. And you should love you too!"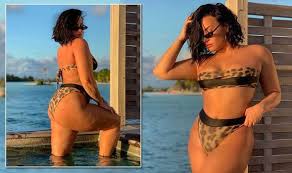 She said that she's done trying to fit strenuous workouts into her 14-hour work days and depriving herself of real cake on her birthday. Posting the raw bikini picture of herself was her biggest fear but she said she did it because she's done worrying about what others think of her body.
 In the Instagram post, she said, "A photo of me in a bikini unedited. And guess what, it's CELLULIT[sic]!!!! I'm just literally sooooo tired of being ashamed of my body, editing it (yes the other bikini pics were edited – and I hate that I did that but it's the truth) so that others think I'm THEIR idea of what beautiful is, but it's just not me."
 She added that this next phase of her life is going to focus on her being authentic to who she is instead of trying to meet other people's standards. "So, here's me, unashamed, unafraid and proud to own a body that has fought through so much and will continue to amaze me…" Her goal is to help inspire others to appreciate their bodies too.
 Lovato's posts have gotten support from other celebrities, including fellow singer Bebe Rexha and model Ashley Graham.
Could this be the way of the future? We hope so! Promoting a healthy, body-positive image to women, both old and young, is so important and needed. Nobody – and no body – is perfect, so let's spread the word that "imperfectly perfect" is the new beautiful.