The One Where Their Show Turns 25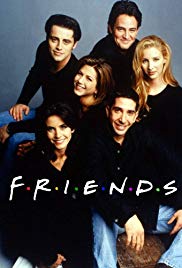 First airing on September 22, 1994, more than 20 million people tuned in to watch the pilot episode of the television show Friends. The show instantly became a weekly favorite, gaining 52.46 million views over the next 10 seasons. The show's finale aired on May 6, 2004. However, that did not stop the growing number of viewers. Today, it is estimated that over 50 million teens and adults from all generations — and from around the world — are still watching and re-watching the same episodes to this day. 
The show follows six young adults through the struggles and successes of jobs and love lives centered around hangout sessions at their iconic coffee house, Central Perk, and their four apartments. The show features Monica (Courtney Cox), a chef with a need for control and cleanliness, and her older brother Ross Geller (David Schwimmer), a paleontologist who wants to find love after his divorce, especially in Monica's high school best friend, Rachel Greene (Jennifer Aniston), who just moved to the city after running out on her wedding day and her previously wealthy lifestyle. The show also features Chandler Bing (Matthew Perry), Ross's college roommate and an accountant with a great sense of sarcasm, his roommate Joey Tribianni (Matt LeBlanc), a struggling actor, and Monica's ex-roommate and other best friend, Phoebe Buffay (Lisa Kudrow), a masseuse and singer.      
This month, Friends celebrates its 25th anniversary — and you can be involved in the celebration, without going to New York or Los Angeles to visit one of the many pop-ups with merchandise and photo sets. You can participate in online contests and raffles to win trips and experiences or, as of this week, you can even download their new app, Friends 25. The app includes trivia, stickers, filters, wallpapers, and recipes for iconic foods from the shows. You can also celebrate by watching Friends on Netflix, Nickelodeon, or Amazon Prime.