Movie Review – The Holiday Calendar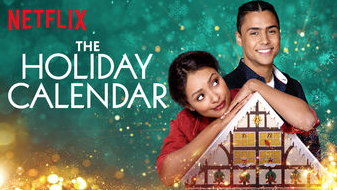 Faith Conway, Sports Editor
November 13, 2018
In the new Netflix original film, The Holiday Calendar, a struggling photographer named Abby (Kat Graham) receives an antique advent calendar from her grandpa that belonged to her late grandmother.
As the Christmas season approaches Abby works taking pictures at Santa's Village, even when she knows she is more talented than that.
Each day the advent calendar opens on its own at midnight and reveals a miniature figure that somehow correlates to Abby's day. Through it all, her best friend Josh (Quincy Brown) is by her side.
As each day passes by, Abby is entranced by Ty Walker (Ethan Peck), a new found romantic interest. He takes her on many fun and exciting adventures and they all are represented by the mini figures in the calendar.
With this so-called future predicting calendar, Abby goes through many things and learns a lot about others as well as herself.
Through it all, Abby's grandpa is a huge contributor in her life and gives her advice in all aspects of the world. As the Christmas season approaches an end, Abby works to be the happiest she can and find love along the way.