Movie Review – The Nutcracker and the Four Realms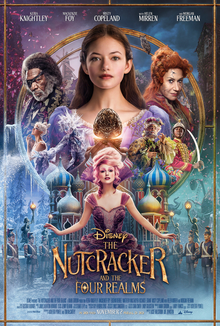 Faith Conway, Sports Editor
November 12, 2018
Ready to be entranced by the Christmas spirit, I was excited to see the new movie The Nutcracker and the Four Realms.
A twist on the original story, Clara, played by Mackenzie Foy, receives a present from her godfather on Christmas Eve at the grand party. Clara is led to another world for her present, a key hanging in a tree. This key is the match for a present her late mother gave her. Unfortunately for Clara, a mouse steals the key and runs away with it. This leads Clara on an adventure of a lifetime.
Clara meets her new friend – Captain Phillip (Jayden Fowora-Knight) – and travels throughout the four realms, those that her mother created. Clara is put on a journey to retrieve her key and help save the three Lands: Land of Snowflakes, Land of Flowers and Land of Sweets from Mother Ginger (Helen Mirren), whose land was banished and now called the Fourth Realm. These lands are led by Shiver (Richard E. Grant), Hawthorne (Eugenio Derbez), and Sugar Plum (Keira Knightley).
Clara encounters tin soldiers, an army of mice, and many dangers along the way. As a princess, Clara take son her role and works to help save what her mother loved and what she now adores as well.
With wonderful cinematography, music and actors, The Nutcracker and the Four Realms is a great movie I highly recommend seeing – especially to put you in the holiday spirit and help you appreciate the snow a little more. This movie takes a classic holiday story and entrances viewers and brings them into a new world they nobody wants to leave.