"I Will Beat This!"
At the beginning of her Junior year, Sydney Friel was your typical student-athlete at Lakes. She was worried about classes, finals, the search for college, but above all, cheer. Nobody could have predicted her school year would be interrupted due to a diagnosis that would change her life. On October 10th, 2022, Sydney was diagnosed with osteosarcoma, a form of bone cancer, that was found on her left leg in her tibia bone. Yearly 400 kids are affected by this, making it the most common childhood bone tumor.
Before her diagnosis, Sydney was a key member of the Eagles Cheer Team. This was her first year cheering at Lakes after being in gymnastics her whole life. "I was on the Lakes gymnastics team my freshman year, but I continued to have injuries and decided I needed to take a break," she said. "At that time, I decided to make the transition to cheer."
The head coach of the cheer team Korrina Andre spoke on what Sydney brought to the team. "Sydney's determination was evident since day one on the team. She lacks fear of trying new things and as soon as she saw a new skill she wanted to try it," Coach Andre explained. Sydney has multiple close friends on the team, so she fit right in with the team's chemistry. Even though she was new to the sport, she earned her spot as a Varsity flyer.
Ava Bullock, a close friend of Sydney, explained how Sydney impacted the people around her. "I would say she was a leader and she was always so supportive and kind to the people who needed it most," Bullock said. Finding a teammate who isn't scared to speak up while also being supportive and respectful is a very rare thing to find in an athlete, so when the team heard that Sydney was out, they were crushed. "Telling the team was an emotional day," Coach Andre admitted, "Mr.Rife sat with us in the cafeteria as we talked through it. We knew she was injured and now we know the cause."
Even though Sydney isn't performing with the Eagles, she is still with each and every teammate. Coach Andre explained that the coaching staff gave everyone on the team a small reminder that no matter what happens, you will never be alone. "Our first competition we gave each teammate a jibbitz and it was a daisy. You will never see a daisy by itself so you are never alone; you will always have your team regardless if they are on the mat with you today or not." The team thought of this idea, once they heard about Sydney's diagnosis. Each teammate makes sure to look at the daisy before they perform and know that Sydney is right there with them, even if she may be miles away.
The daisies are just the beginning of what the team has done for Sydney. They have made bows during football season, luckily Sydney was able to make it to the game, and each week a family signs up to make a basket for Sydney and her family. "My teammates and their families have all been incredibly supportive through all this," Sydney commented. Sydney says that many of the cheerleaders have stopped by with words of encouragement through this hard time. But the Eagles cheer team has not been the only group helping Sydney. Many people only heard about Sydney's diagnosis once it was publicly announced, but once everyone found out the Eagles (students and staff) have been supporting Sydney as she takes on this battle. "The basketball players and the Royal Rush dressed in yellow for one of their games. Some of my family and friends went to go watch, and I watched the game online at home," Sydney said. "My teachers and my counselor have been awesome helping me continue with my classes." The community has also been helping Sydney by setting up fundraisers, a GoFundMe, and even a sign-up to bring the Friel family groceries. Throughout this unexpected diagnosis, Lake Villa and Lindenhurst have come together to make the Friel family feel supported and make Sydney's journey just a little bit easier.
Many people know about the treatment that cancer patients go through but not how it affects the person overall. When I interviewed Sydney, she was open to speak about what treatment looks like for her. "Because osteosarcoma is so rare, not a lot of research and funding goes into updated treatments," Sydney explained, "The treatment plan is the same they use for almost every kid, with some differences, and the same they've used forever." Her treatment began with tests and scans and then a minor surgery to place a port in her chest. "That's where they give me my chemo and do all my bloodwork instead of through an IV." Sydney just recently had a major surgery where doctors removed her tumor and rebuilt her knee with titanium. Sydney is currently home, and doing everything she can to recover from this surgery. As insane as it sounds, Sydney will go back to chemo in two to three weeks. She is currently seven rounds into chemo, needing 18 overall. As amazing as the medication that Sydney is taking, it does come with risks. "Chemo drugs are not nice," She said, " They cause the obvious problems like your hair falling out and nausea, but also more serious ones like heart problems, kidney problems, or hearing loss. I try not to think about all the bad things that can happen because the one and only benefit to all this is the most important, which is all these drugs are keeping me alive."
Sydney says that her biggest challenge through this is mental stamina. "I am tired all the time. Like, my brain wants to go to school and hangout with friends, but my body just wants to lay in bed and watch TV. It's been really tough not being able to do just the normal high school stuff, going to games, participating in sports, going on college visits." Most teenagers have a hard enough time just getting through school, but it's unimaginable for kids to watch their friends having fun while you're just watching from afar. As hard as all this is, Sydney still has one goal in mind: Graduating high school in 2024. "I had the option to drop out of my classes while in treatment, but it's really important to me to finish school on time and graduate with my friends." The class of 2024 is all hoping we can see Sydney back for our senior year, and walk across the stage with us at graduation. Sydney is hoping that she will be able to join her classmates by the end of the school year, and hopefully be done with her treatments by then. Sydney also spoke on how a few other students have helped her through this process. "As rare as childhood cancer is, I've had a few other students reach out to me to let me know I'm not alone, that they've had it as well when they were younger. I had no idea. I hate that they had to go through this too, but by them sharing their stories with me, it's helped me to feel not so alone in this."
Even though this is a major battle that Sydney is facing, she hopes that she won't be defined as "the girl who has cancer." Instead, she hopes that people will remember the impact she made at school and her positive character. Coach Andre vocalizes, "be kind because you truly never know what's happening in someone's life. Smile to each other, reach out and acknowledge each other. We're all a lot more alike then we know."
About the Contributor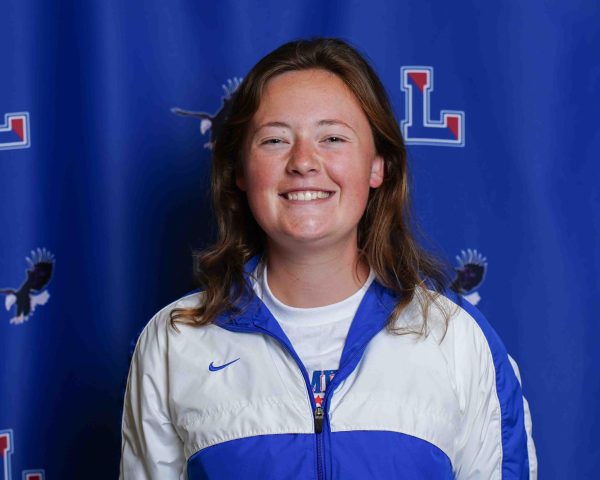 Abby Gedville, Digital Media Director
Abby Gedville is a senior, going into her second year on staff. She enjoys playing sports and taking photos in her free time. Gedville is planning on being...