Yellowstone 150th Birthday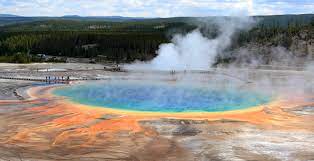 On March 1, 1872, President Ulysses S. Grant signed into action the Yellowstone National Park Protection Act, making Yellowstone the first national park in North America. 
This year marks the 150th anniversary of the creation of the park. "Yellowstone's 150th anniversary is an important moment in time for the world," Cam Sholly, the superintendent of Yellowstone National Park, shared in a statement released to Travel + Leisure. "It's an opportunity for us to reflect on the lessons of the past while focusing our efforts to strengthen Yellowstone and our many partnerships for the future." 
Many people have visited Yellowstone throughout its amazing history. Yellowstone is located in Wyoming, the northwest corner of Wyoming. Officials that work at the park are starting to make the park even better than it already is, starting with creating a Tribal Heritage Center, which will be stationed at Old Faithful, one of the most popular areas in the park, throughout the summer. Park officials are working with several Indigenous nations as the plans for the center start to form.
While working to incorporate the Tribal center, Yellowstone is working on a Bison Conservation Transfer Program which is trying to deliver a small amount of bison back to Native American lands across the U.S. instead of slaughter. 
As Yellowstone officials are trying to keep this wonderful park alive, it is also up to the visitors to keep the park in good shape and we can do that by making sure we don't harm the animals at the park and not going off trail to explore yourself. Yellowstone's tourism numbers have surged in recent years; in 2021, the park saw just shy of 5 million visitors between January and October, a 20 percent increase in tourism from 2019, according to Jackson Hole News & Guide. 
One other important thing travelers can do is give thanks for nature and show your appreciation for the park. By doing this, you can help preserve Yellowstone National Park for another 150 years!