All About Omicron and What it Means to Us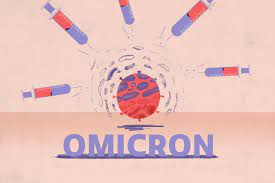 "I think I've seen this film before, and I didn't like the ending." This line from Taylor Swift's song "Exile" has been flooding social media pages for weeks regarding the rise of the Omicron variant. From schools going virtual, shelves starting to go empty, more masking restrictions in indoor locations, and trends such as the sharing of this lyric have pushed Americans towards a state of panic of what is to come.
Starting December 21, 2021, to currently, the Omicron variant was the most prominent variant of COVID-19 throughout the country, according to the CDC. Like previous variants, Omicron travels through close interaction with others carrying the virus. However, it is more transmissive than other variants between people. The symptoms of the variant are more closely related to those of a common cold: headaches, sore throat, exhaustion, and dry cough. These are far different from the original spread of the virus, with loss of taste and smell being the major symptoms. Although the spread and symptoms appear to be far different than previous variants, the CDC shared in their official report that "current vaccines (and boosters) are expected to protect against severe illness, hospitalizations, and deaths due to infection with the Omicron variant." Although the fully vaccinated are able to receive the virus, states have reported through the CDC that the more doses of vaccine you have received, the more mild symptoms are on average.
As for prevention, the CDC still strongly suggests vaccines and boosters to help reduce the severity of the variant as well as continuing to mask in public spaces.
But what does all of this mean to us? NBC Chicago reports that as more cases test positive, soft lockdowns may be in our future. Towards the beginning of the month, many DMVs throughout Illinois shut down temporarily, moving digitally until the positivity rates reached a lower point. The Blackhawks and Bulls have postponed games. Flights were canceled or postponed due to lack of staff. Many other institutions, such as businesses and schools, are also expressing their concerns as cases continue to rise. As of currently, the state encourages everyone who is feeling unwell to test and self-quarantine for five days (in accordance with CDC guidelines). 
We have seen this film before, and the ending was not great. However, we are far more prepared this time around, and now have the required tools and knowledge to decrease the numbers.