Aaron Rodgers Covid-19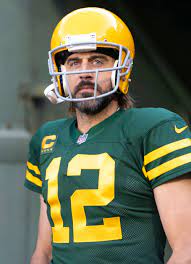 Aaron Rodgers Covid-19
On November 3, 2021, Aaron Rodgers officially tested positive for COVID-19. It is speculated that Aaron Rodgers contracted the virus at a Halloween party where many videos were taken of Rodgers singing and dancing without a mask. Rodgers missed the game against the Kansas City Chiefs on 11/7/21 and received a $14,000 fine for violating COVID protocols, as well as possible game suspension.
For Green Bay fans, the news got worse from there. Due to NFL rules, the majority of players were tested and quarterback Kurt Benkert, star wide receiver Davante Adams, and defense coordinator Joe Berry were all found positive for Covid-19 
Many have asked why Rodgers has gone so long without being vaccinated (as well as lying about his vaccination status) and how the NFL hasn't been stricter about players getting the vaccine. Rodgers talked on The Pat McAfee Show two days after the COVID test came back positive. He tried to explain what happened, but only seemed to make people more upset with him. 
Rodgers attempted to say that he was allergic to an ingredient in mRNA vaccines, but prior to that he had told the media that he was immunized. Rodgers explained that he had told the lie to help save his reputation when he said "They wanted to out and shame and denigrate every single person who didn't immediately say, 'oh I got the Pfizer, I got the Moderna whatever." Rodgers said that everyone on the team and administration (as well as within the league office) had known that he was unvaccinated, yet did not tell the media that he had lied.
 Aaron Rodgers is one of the faces that represents the NFL; if you were to ask someone to name a player from the NFL, a large percentage of the responses would be Aaron Rodgers. Rodgers has provoked a ton of his fans to turn against him. This incident has shown the faults in the NFL's safety protocols.