Chicago Museums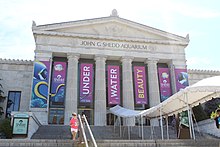 Chicago residents, tourists, and museum enthusiasts can now experience Chicago's finest museums in full again. The Shedd Aquarium, The Museum of Science and Industry, and many other favorites have reopened their doors for the public again. Here are the changes and precautions that are being put in place.
The Shedd Aquarium – The Shedd Aquarium is a great place for all ages to take a glimpse into the aquatic world. Here you can see over 32,000 animals in a unique, up-close environment. The Shedd Aquarium website details the basic CDC precautions for avoiding COVID-19 like required mask wearing, social distancing, one way paths, etc. The major changes to the aquarium include purchasing a ticket ahead of time, and some of the interactive high-touch surfaces have been reduced. Their website also includes contact information if you have any questions and offers the option to reschedule your trip if complications were to arise. Unfortunately, stingray touch has been closed for the season as well as the water fountains. These small changes for your safety should not make a huge impact on your visit at the Shedd.
Museum of Science and Industry – The Museum of Science and Industry offers a wide variety of exhibits to experience. This year they have several new exhibits, one being dedicated to the Marvel Universe. The Museum of Science and Industry website has a section under 'visit' called 'know before you go'. The website suggests that patrons purchase their tickets ahead of time. Much like the Shedd Aquarium, the Museum of Science and Industry details the same CDC precautions. An interesting addition the museum is offering is the disposable stylis. This way patrons can enjoy all the interactive activities while being safe.
The Field Museum – The Field Museum is an amazing way to see creatures from millions of years ago. You can learn about them, their environments, and what the planet has looked like over the past million years. The Field Museum wants to keep their guests safe, so they have put in the same CDC guidelines as the Shedd and MSI. The website states "We are also limiting the number of visitors each day to 25% of our building's capacity. With nearly half a million square feet of public space, there's plenty of room to spread out and comfortably enjoy your time at the Field." While you are enjoying the museum you can also represent everyone's favorite dinosaur; their website offers the ability to buy a 'Sue the Dinosaur' themed mask to wear while you visit.
This summer you should take advantage of the amazing museums Chicago has to offer. Your day will both be fun and educational, and with their safety measures put in place there is no reason not to enjoy them.
The Adler Planetarium is the perfect place to learn and enjoy the study of astronomy and astrophysics. Unfortunately, the out-of-this-world museum is closed until further notice.