The Legacy of Baseball Great Bob Gibson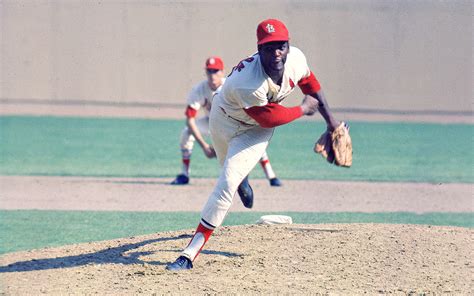 Bob Gibson, the baseball pitcher who spent his entire MLB career with the St. Louis Cardinals, sadly passed away on October 2nd after battling pancreatic cancer.
If you're not familiar with baseball history, Bob Gibson was a historically dominant pitcher for the Cardinals, playing with the team from 1959 to 1975. His performance in the 1968 season was famous for the best earned run average of the modern era, at a staggering 1.12.
Gibson had to overcome an array of challenges to get to the point of being the icon that he eventually was. As a young child living in Omaha, Nebraska, he had rickets (a condition that causes weakened or softened bones), which combined with other health scares such as a bout with a respiratory illness at the age of three, made it hard for him to even survive past infancy. 
The next challenge was that his baseball coach in high school barred him from playing for most of high school because of his race. However, his basketball career made him a stand-out in high school. Despite this, he was denied from playing basketball at Indiana University because of his race, so he accepted a scholarship at Creighton University. Finally, his college team allowed him to play baseball, where he excelled.
After college, not only did Gibson begin a professional baseball career, he also got contract offers from the Harlem Globetrotters and the Minneapolis Lakers (before the team moved to Los Angeles in 1960). He accepted the offer from the Globetrotters while also going into the Cardinals' minor league system. After only a few months on the Globetrotters, he decided to focus on his baseball career instead of maintaining both of his endeavors.
Once Gibson finished his rookie season in St. Louis, he experienced more discrimination from his manager, similarly to Gibson's high school coach and Indiana previously. His manager used racial slurs openly on multiple occasions and moved Gibson between starting pitcher and the bullpen throughout 1960, preventing Gibson from getting into any sort of rhythm.
However, once the Cardinals got a new manager that respected Gibson, his performance throughout the rest of his career was superb. He was a 9-time All-Star, 9-time Gold Glove winner, 2-time National League Cy Young Award winner, and won the NL MVP award in 1968. The Cardinals also won the World Series twice during Gibson's career. Gibson won the World Series MVP both times. The Cardinals retired his number in 1975, shortly after Gibson retired himself. The Cardinals also have a statue of Gibson at their stadium. Gibson was also inducted into the Baseball Hall of Fame in 1981, his first year of eligibility.
After his historic 1968 season, also known as the "Year of the Pitcher" due to the league-wide dominance of other pitchers alongside Gibson such as Denny McLain, MLB lowered the pitcher's mound from 15 inches to 10 inches to decrease the leverage of the pitcher. They also made the strike zone smaller, decreasing the top of the zone from the top of the batter's shoulders to the batter's armpits. These rule changes are also known as the "Gibson Rules".
Outside of his incredible performance and his ability to overcome a multitude of circumstances that most likely would have prevented his career from happening in the first place, he was also beloved by his teammates and was also famous for his interviews. Despite his trademark aggression on the mound by throwing inside towards batters for even the smallest of grievances, his legacy also includes being a great person to have a conversation with. Current Cardinals catcher Yadier Molina said that "Bob was funny, smart, he brought a lot of energy. When he talked, you listened."
Overall, the city of St. Louis and the entirety of Major League Baseball has lost a legendary person, on and off the field. Flowers have been left by fans at his statue at Busch Stadium in St. Louis and his statue in Omaha, outside of the stadium of the Triple A team Omaha Storm.