Who Won Free Agency?
Who would've thought that the biggest sport in March, the only sport keeping sports media afloat, and the one in all the headlines… would be football. Amid coronavirus concerns, almost every single sport has been shut down and is in somewhat of an unfamiliar place. Same goes for the NFL, however there are no games in March to 'shut down'. The new league year and free agency period were the lone events on the schedule. After the official start date was in limbo over a vote on newly proposed rules and of course the ongoing pandemic, free agency did end up starting on time and as planned, but went on under somewhat modified circumstances.
The free agency period entails that any player not under contract for a team, can seek an option to sign with another team as soon as the new league period begins. As of Monday, March 16th, players and their agents were able to communicate with other teams and coaches, but due to coronavirus concerns were not able to meet with any club personnel at their facilities. They were also not allowed to travel to a specific location to meet with any free agent player, including their own. It may have complicated the process of signings, but it was apparent it didn't slow much down as over a hundred players left and right were agreeing to lucrative deals all week. 
If you haven't heard, this week's most lucrative deal was the signing of Tom Brady by the Tampa Bay Bucs at $30 million a year. To call the move shocking would be an understatement. Absolutely no one thought Tom Brady would ever leave New England and his mentor, Coach Bill Belichick. Patriot fans were left stunned after hearing the news he wouldn't be coming back to where he's had more success than anyone, enough so to be referred to as the greatest of all-time (GOAT). It seemed as if New England wasn't interested in bringing him back though, and they let him walk after 20 seasons and six Super Bowls, which is not too shabby. If the Patriots are wanting to put themselves in the best position to win in the future, not resigning him makes sense since Brady is already 43 years old.
So if New England made the right move, and Tom Brady's best days are well behind him, what are the Bucs thinking giving him that much money? Fair question, and it's worth noting many Bucs fans do disagree with the move, but he's still Tom Brady and he's still going to make an impact. He's a win-now QB at his age, and the Bucs have the offensive weapons and a strong enough defense to compete next season. And that's not all, ESPN's Adam Schefter reported that an unexpected number of free agents have all of sudden had increased interest in signing with Tampa… it's called the GOAT effect apparently.
About those other free agents not named Tom Brady, there were a lot of them. Some notable ones were cornerback Byron Jones becoming the richest at his position after signing with Miami, Philip Rivers finally leaving the Chargers for Indy, and Teddy Bridgewater replacing Cam Newton in Carolina.
And in other news, there were some big trades with big-time players that went down as well. The first was perhaps the ultimate head scratcher: Bill O' Brien and the Texans sent arguably the best receiver in the game, DeAndre Hopkins, to the Arizona Cardinals for what Michael Irvin, a former player, called 'a ham sandwich'. Later that day, Stefon Diggs, another top receiver, ominously tweeted "it's time for a new beginning", and was subsequently dealt from the Vikings to the Bills for the kind of draft capital that made the Texans look even more foolish than they already did. Then there was the Colts giving up their first rounder to acquire DeForest Buckner from the 49ers, and the Jags and Bears swapping Nick Foles and a fourth rounder.
That's all the major news from this week in sports, but now let's answer the question of who won free agency.
The Texans are off the list, that's for sure. The trade sending away their best player left Houston fans outraged so you would think they'd agree. Cross the Bears off too. They spent the early stages losing an underrated linebacker, overpaying for an old Jimmy Graham, and to put the cherry on top traded for Nick Foles. We all know Trubisky ain't it, and sportsbooks are telling us they'd be worse off with Foles. So yeah, things are getting uglier by the minute in Chicago.
Interestingly enough the two teams who made some great moves and have won free agency in my opinion are both teams that took advantage of Houston and Chicago. Starting with the Arizona Cardinals, their game plan this week was to add weapons for their young quarterback and rookie of the year, Kyler Murray, and shore up their defense. Check, and check. It was everything they could've hoped for and more thanks mostly to Bill O' Brien and whatever he was thinking for letting the Cards get perhaps the best receiver in the game for Kyler to throw to. All this while also ridding themselves of David Johnson and his lofty contract so Houston could take of it. They then signed three underrated defenders in Jordan Phillips, Devon Kennard, and De'Vondre Campbell. Arizona may have been the bottomfeeder of the division last year, but this week alone have exceeded expectations by so much they might just be Super Bowl contenders.
The other team is one that not that many people are talking about: The Las Vegas Raiders. They have been rather quietly making some good moves. The aforementioned Bears' lost linebacker, Nick Kwiatkowsi, is now a Raider. One of this cycle's most prized free agents, Cory Littleton is also now a Raider. But perhaps their biggest move was signing Marcus Mariota. We forget he was once on of the hottest commodities in the league, just a few years back. He still should remain as such even after getting replaced in Tennessee last year- by a pro-bowler in Ryan Tannehill mind you. It's been well-documented that Raiders coach Jon Gruden may not be fully sold on his current signal caller, Derek Carr, so if that turns out to be true, they now have a cheap and tremendously overlooked option in the room.  
There were some teams that made some nice moves, but not enough to win free agency. As stated previously, Tom Brady's departure can be looked at as a win-win for both parties. Tampa has weapons around Brady to win now, but they paid him a lot of money and they haven't been able to do much else this week as a result. For New England, they may now have the ability to get a head start on their fresh start, but when Tom Brady left, so did their dynasty for the time being. 
The Dolphins made a splash in signing Byron Jones to pair with Xavien Howard on defense. And the marine mammals reeled in tons of other big fish during the first couple days including Ereck Flowers, Kyle Van Noy, Shaq Lawson and Jordan Howard. Miami came in having the most cap space out of anyone, and they invested most of their money through modest deals on average players with high upside. They also signed three former special teams captains this week. THREE, out of the 32. Last time anyone checked though, special teams captains aren't enough to win anything, and the fact they had so much money to begin with means they were going to make a lot of moves no matter what.
About the Writer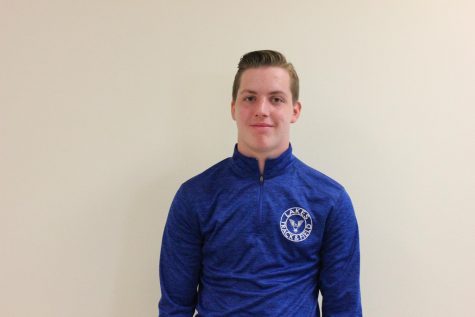 Jacob Brooks, Sports Editor
Jacob Brooks is currently a junior at Lakes and is involved in many activities after and outside of school. He is on the soccer and tennis team, and joined...