Dogs Making History
After First Lady Barbara Bush died in 2018, former President George H.W. Bush got Sully, a service dog from America's VetDogs, a grassroots community service group in New York that supports disabled veterans. The group raised, trained and placed Sully with Bush. Sully was matched specifically to provide assistance and companionship to the president in his daily activities.
 Sully and the president had a close bond. John Miller, president and CEO of America's VetDogs, said, "First thing that President Bush said to him when he was placed was 'welcome home.' And he was instantly part of the family." Sully was named after the former airline pilot Chesley B. "Sully" Sullenberger.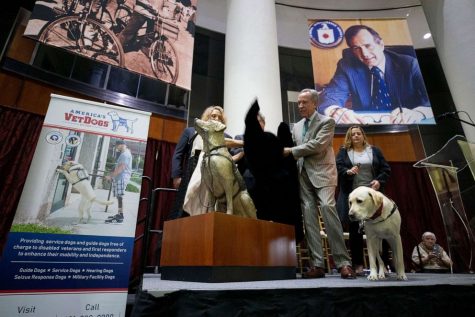 When President George H.W. Bush died, Sully laid quietly below the coffin. That image touched many people, including Susan Bahary, a sculptor, who reportedly said that she knew she had to sculpt Sully after seeing how attached he was to the former president.
 On Monday, December 2, the yellow Labrador retriever was honored with a statue at the George H.W. Bush Presidential Library in College Station, Texas. The life-size bronze statue was commissioned by America's VetDogs and is part of the museum's permanent collection.
 Sully's sculpture is featured in a sitting position and not only shows the bond that he and the president shared, it also puts a spotlight on services available for all veterans, not just presidents.
 America's VetDogs credits the former president's work to provide services for disabled individuals. In 1990, he signed the Americans with Disabilities Act into law, which prohibits discrimination based on disability.