Teens Chen and Zagitova Win Gold at the World Figure Skating Championships
Andrew Butler, Staff Reporter
March 27, 2019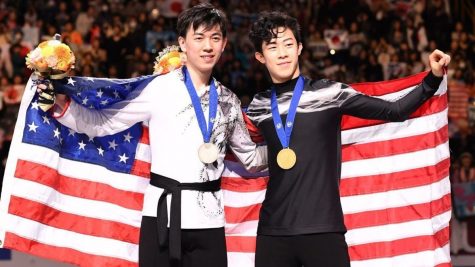 SAITAMA, JAPAN- For the second consecutive year, 19-year-old Nathan Chen (right) of Salt Lake City, Utah won the men's singles World figure skating title on March 24. He shared the podium with another teen, American Vincent Zhou (left).
Shortly over a year ago, the United States had high hopes that Chen would return from the Pyeongchang Winter Olympic Games with a medal; that he would land on the podium in the men's singles figure skating competition. Chen had an uncharacteristically disappointing performance in the short program, where he placed seventeenth. Even though the chance to win a medal was off the table, he had a dazzling performance in the free skate to Mao's Last Dancer by Christopher Gordon, where he placed first, nearly ten points above Japanese sensation Yuzuru Hanyu. Ended up in fifth place overall, Chen's rebound to the top at the Olympic Games was not a surprise, as he has shown that he is a force to reckoned with on the ice rink. He did return to America with a bronze medal for the United States' success in the Team event.
Entering the World Championships, Chen was a heavy favorite to win the gold. Winning by almost 50 points over second place Japanese skater Shoma Uno in 2018, Chen was easily at the top of the podium. However, coming into the Championships this year, Chen had more competition that could make his run for the gold a challenge. Yuzuru Hanyu, the Olympic champion at the 2018 Winter Olympics where Chen placed fifth, would vie for the gold as well. Shoma Uno, the 2018 Olympic silver medalist and 2018 silver medalist at Worlds, would also challenge him for the top. Two of Chen's American teammates, Jason Brown and Vincent Zhou, were also heavily expected to perform well at the World Championships.
After the short program, the first part of the competition, the three Americans were in the top four: Nathan Chen led with 107.40 points, followed by Jason Brown with 96.81 points, then Yuzuru Hanyu with 94.87 points, and Vincent Zhou with 94.17 points. Chen's ten-point lead over second place was crucial for him; the cushion allowed him to continue building a bigger lead during the free skate.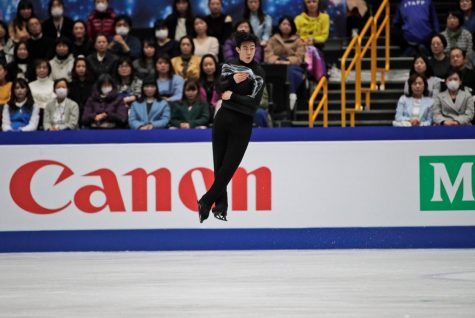 During the free skate, Chen produced a flawless routine, which included four well-executed quadruple jumps, to confirm his chances of winning the gold. Chen, a freshman at Yale University, won first place with a combined score of 323.42 points, a new record. Yuzuru Hanyu, who still performed a strong skate, was not able to keep with Chen's immaculate routines. Hanyu won the silver medal with 300.97 points, over 20 points less than Chen. American skater Vincent Zhou won the bronze with 281.16 points.
The Russian figure skating team are arguably the strongest team in the world. However, the withdrawal of Maxim Kovtun, one of their star skaters, drastically reduced their chances of winning a medal at this year's World Figure Skating Championships. With three entries in the men's singles event, Russia placed sixth, tenth, and twelfth. Despite these struggles, they were much more successful in the ladies' singles event, where they won the gold and silver.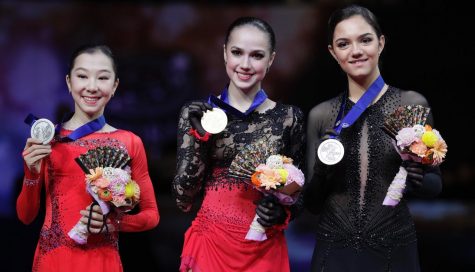 Alina Zagitova and Evgenia Medvedeva, Russia's two rival female skaters, had a nailbiting battle at last spring's Winter Olympic Games in Pyeongchang, South Korea for the gold medal. In the end, 16-year-old Zagitova narrowly edged out the more experienced Medvedeva by merely a point. Since then, competition between the two talented skaters hasn't been as frequent, due to medical conditions that have plagued Medvedeva from being able to compete in international competitions.
After recovering from a stress fracture in her foot and changing coaches, Medvedeva has been able to make a slow but steady return to the figure skating world. At the 2019 Russian National Championships, a crucial competition which decides which skaters would represent Russia at the World Championships that year, Medvedeva performed poorly, failing to medal and placed seventh overall. Like her, Zagitova also struggled at Nationals and placed fifth. Despite these challenges, both were selected to compete at Worlds.
In the short program, Alina Zagitova led the competition with 82.08 points, followed by Japanese skater Kaori Sakamoto with 76.86 points, Elizabet Tursynbaeva of Kazakhstan in third place with 75.96 points, and Medvedeva in fourth place with 74.23 points. Aside from Zagitova in first, less than seven points separated second and eighth place. Rika Kihira, a Japanese rising star who is one of nine ladies to ever successfully complete the Triple Axel jump, failed to attempt the jump, leaving a handful of points that could have propelled her into first if she completed the jump.
In the free skate, Alina Zagitova continued to pull ahead of the rest of the competition, winning the gold medal with a combined score of 237.50 points. Elizabet Tursynbayeva received the silver with 224.76 points and Evgenia Medvedeva won the bronze medal with 223.80 points. Kihira, who made a strong comeback after a spectacular performance in her free skate routine, placed fourth, less than a point from Medvedeva with 223.49 points. Sakamoto placed fifth with 222.83 points.
Tursynabeva is the first woman from Kazakhstan to win a medal at the World Championships and also became the first woman to complete a quadruple jump in any senior ladies' competition.
For next year, the figure skating world will see a trio of talented Russian junior skaters join the senior competitions. Alexandra Trusova, Anna Shcherbakova, and Alyona Kostornaia, who perform routines with difficult choreography and quadruple jumps, pose a serious threat to other senior skaters in the upcoming years. But for now, it is important to appreciate the successes of this year's gold medalists and their accomplishments at the 2019 World Figure Skating Championships.