YouTuber Wins Congress Seat in Brazil
Andrew Butler, Staff Reporter
November 20, 2018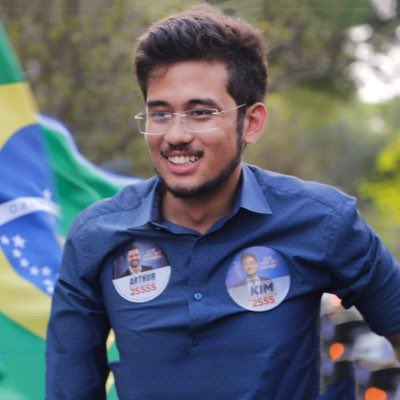 Kim Kataguiri (above) is the first YouTuber to become congressman.
For the first time ever, a YouTuber has been elected to Brazil's Congress. In São Paulo, a diverse and bustling megalopolis in southeastern Brazil, known for its vibrant architecture, cultural institutions, and industrial success, 22-year old Kim Kataguiri has recently been elected to the nation's legislative body.
Kataguiri's rise to fame began in college in 2013 while he was sitting in his history class. His professor accredited a flagship social program for the lower class in Brazil's thriving economy. Despite never being interested in the class before, the then-17-year old Kataguiri was all-ears in his professor's lecture. In a telephone interview with Time Magazine, Kataguiri instead recognized "Brazil's relationship with China and the commodities boom" for causing the economy to flourish. After the class, he uploaded a video on YouTube about his disagreement with his professor, which went viral overnight much to his surprise. During this time, Brazil fell into recession after a severe economic crisis.
As a result of the rapid prominence Kataguiri experienced, he created the "Movimento Brasil Livre", or the "Free Brazil Movement". A right-leaning party, the MBL was created for two main purposes- to impeach Dilma Rousseff, the left-leaning President, and to spread the gospel of free-market values.
After Brazil's recession, Rousseff and her administration were under fire for a corruption scandal. The turmoil began in 2014 when an investigation alleged that "millions of dollars were kicked to officials of Petrobras", one of Brazil's leading oil companies. Politicians, "especially members of Rousseff's Workers' Party" were also given money through secret contracts. During the commodities boom, exporting resources such as food, oil, and metal were expensive, allowing the economy to prosper. However, prices fell drastically and the economy tanked with it. Rousseff also went on a "spending spree", causing the deficit to increase fivefold from "2 percent of GDP (a measure of the market value of final goods at a given time) in 2010 to 10 percent of GDP in 2015." These two conflicts caused Brazil to become a hotbed of economic collapse.
Kataguiri and the MBL organization blames President Rousseff for the corruption scandals that have disrupted Brazil. In April of 2015, MBL organized a 620 mile-long march from Sao Paulo to Brasilia, Brazil's capital, to advocate for economic liberalism. When the march finally reached Brasilia, a mass rally was formed by over a million activists who demanded that Rousseff should be impeached
Ultimately the activists were successful as on August 31, 2016 President Rousseff was removed from office in a 61-20 vote.
Using this wave of popularity to help him get a seat in the government, Kataguiri was the fourth most-voted-for candidate in the Brazilian elections, granting him a seat in Congress. Six other members of the Free Brazil Movement have won at the federal level.
These candidates are also competing in the upcoming presidential election. Jair Bolsonaro, a populist member of the right wing to far-right Social Liberal Party (PSL), and Fernando Haddad, a member of the center-left to left-leaning Workers' Party, are the two leading contenders running for president. Of the 79.67 percent of Brazilian citizens who voted in the first round of the election, Bolsonaro received the most votes, receiving 46 percent of them to Haddad's 29 percent. 
In a handful of weeks, Brazilians will vote for the next President and YouTuber Kim Kataguiri will be one of the many new politicians taking a seat in the government.