The Return of North Korea's Mass Games
Andrew Butler, Staff Reporter
September 21, 2018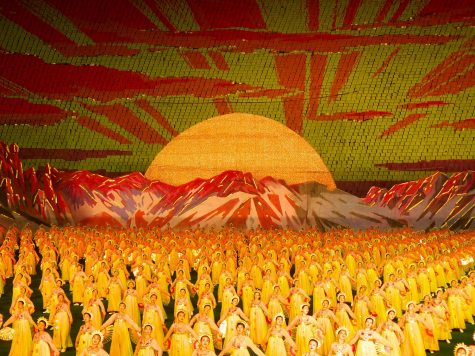 North Korea has recently relaunched their well-known propaganda spectacle in honor of 70 years since the founding of the country. This display of gymnastics, acrobatic, and dance performances will consist of  100,000 participants within the 150,000-seater May Day Stadium in North Korea's capital, Pyongyang.
This extravaganza, known as the Arirang Mass Games, used to be a summer tradition between 2007 and 2013, drawing in large crowds of tourists from all over the world, who were infatuated with the military precision, beauty, and grandeur of the performance inside the world's largest stadium. Though it stopped for unknown reasons after 2013, it will be brought back this year for the country's anniversary.
Many western nations, including the United States and those in the United Nations, have imposed strict economic sanctions on North Korea due to its active nuclear programs. According to Radio Free Asia, a pro-US foreign policy broadcasting corporation, North Korea has had restrictions placed on its oil imports after undergoing a sixth nuclear test and a ballistic missile test. These sanctions have ultimately prevented the communist nation from investing in business with China, hindering them from achieving further economic development. North Korea is already struggling; according to The Borgen Project; over 10.5 of 25 million North Koreans are malnourished and 17.5 million depend on the government for food aid. In order to gain foreign revenue and promote the Arirang Mass Games, North Koreans have created exclusive tours of the country and have offered tickets to tourists overseas. Many of them, such as an anonymous ethnically-Korean businessman, are skeptical of the North Korean hospitality. He says that he received "an offer for a free ticket to attend the Arirang Games when he visited Pyongyang in July". He also commented that he was treated to meals, despite the harsh poverty and malnutrition North Koreans are facing. This has led many to argue that the Games are strictly for propaganda purposes.
The Asian country is hoping to draw more tourists to watch its awe-inspiring, acrobatic performance. The Arirang Mass Games began on September 9.