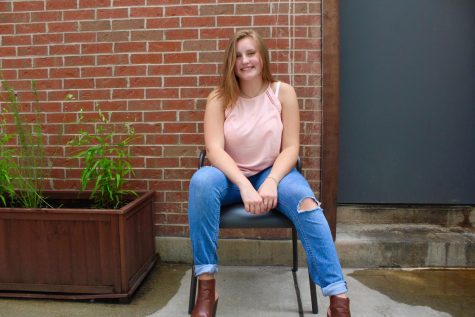 Kelly Scheuring is a junior at Lakes Community High School. This is her second year on staff and is taking the position as Co-Editor-In-Chief. Kelly wants to get a degree in Marketing Communications; plans to attend Illinois State University. She likes watching The Office and listening to music.
If you need to contact her or find her you can email her at
[email protected]
or look her up on Twitter @KellyScheuring.
Kelly Scheuring, Editor-In-Chief
May 22, 2018

Hallway Interrogation: Isiah Talley, Sophomore

(Story)

Apr 19, 2018

Hallway Interrogation: Chance Hoeller, Senior

(Story)

Apr 14, 2018

How World Actions Affect Our Daily Lives

(Story)

Jan 24, 2018

January 2018 Staff Playlist

(Story)

Jan 24, 2018
Dec 21, 2017

Jumping into Girls Basketball

(Story)

Dec 06, 2017

Zachary Timmerman

(Story)

Oct 24, 2017

Artist You Should Know: Vic Mensa

(Story)

Aug 30, 2017
Aug 29, 2017

Virtual Visit: DePaul University

(Story)

Aug 28, 2017
Aug 28, 2017
Aug 28, 2017
Aug 28, 2017
Aug 28, 2017
Aug 28, 2017
Apr 21, 2017

Who is Alexia LaSaint?

(Story)

Mar 09, 2017

Movie Review: Get Out

(Story)

Feb 10, 2017

Curious Community: How Did We Get Our Eagle?

(Story)

Feb 02, 2017

Hallway Interrogation: Heidi Hintz

(Story)

Jan 10, 2017

Dance Twirls Into Their Season

(Story)

Dec 12, 2016

What are your plans for winter break?

(Story/Media)

Dec 06, 2016
Dec 06, 2016

Head to Head: Fall

(Story)

Nov 15, 2016

Rant on the School Water Fountains

(Story)

Nov 03, 2016
Oct 27, 2016

Hallway Interrogation: Aj Callahan, Senior

(Story)

Oct 19, 2016

Adam Nuxoll: IHSA Sectionals meet

(Story)

Oct 17, 2016

Camryn Jones: IHSA Sectionals meet

(Story)

Oct 06, 2016

Artist You Should Know: Blackbear

(Story)

Sep 16, 2016

Lakes Prepares for Heavy Rushing @ Wauconda

(Media)

Sep 12, 2016

Season Opener: Boys Golf

(Story)