2018 So Far…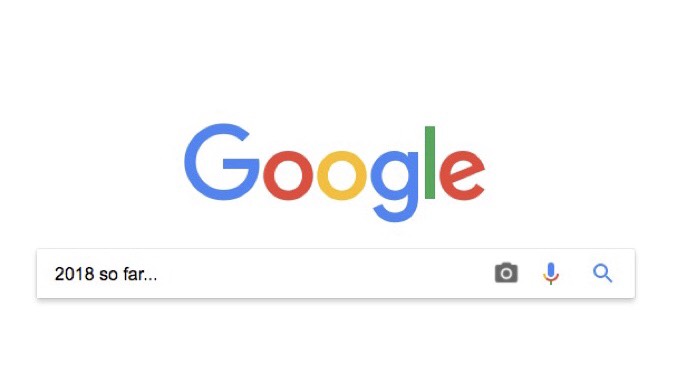 We may only be two weeks into 2018, but there's already been a substantial amount of information that foreshadows what the remainder of the year may hold. A mix of natural disasters, politics, apologies, avoidable accidents and public backlashes: the new year is in quite a whirlwind. Here's a look at how some of 2018's highlights have unfolded so far:
Logan Paul: On December 31, 2017, Logan Paul posted a vlog on YouTube covering his trip to Japan; however, his vlog covers a visit to Aokigahara (the base of Mount Fuji), known as "suicide forest" because of its popularity as a location for suicides. Paul's vlog shows footage of a man's corpse who had recently hanged himself. The video had over 6.3 million views within the first 24 hours of being posted and instantly received criticism for being insensitive to suicide by many. After worldwide controversy, Paul removed the video and apologized via Twitter on January 1. The following day, Paul uploaded a video that has since then been viewed more than 13.7 million times in which he further apologizes and says he will be taking a break from his vlogs to take "time to reflect". Youtube says that Paul's video violated their policies and is looking into a way to increase censorship and prevent this kind of video from circulating again in the future.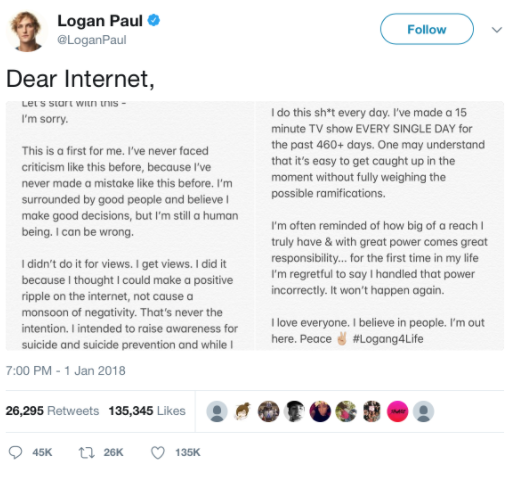 Photo Courtesy of Twitter
California Mudslides: In areas that were recently scorched by last year's California wildfires came heavy rainfall that resulted in the most devastating wildfire in the state's history. As a result, flash floods and mudslides began to occur in early morning of January 9 and have since then resulted in over 20 deaths, and 5 reported missing. Traveling at over 20 miles per hour, the mudslides left over 15 feet deep of mud and debris in Santa Barbara County. Residents were asked to evacuate the areas where the mudflow was affected. Leaving homes destroyed and roads blocked, firefighters and other emergency responders began searches to rescue residents trapped in debris. Many, who are unable to escape, were rescued by helicopter.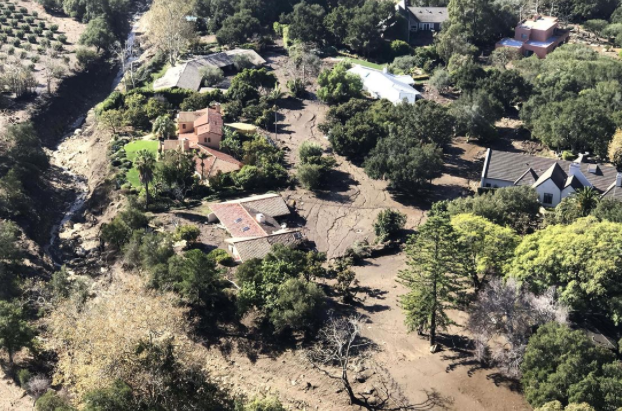 Photo Courtesy of United States Department of Defense
Donald Trump's Latest Controversy: After an Oval Office meeting on January 11, President Trump has received condemnation for allegedly referring to countries such as El Salvador and Haiti as "s***hole countries", according to Illinois Senator Dick Durbin. Durbin claims Trump repeatedly used offensive words against these countries' immigrants and instead preferred immigrants from Norway. President Trump later tweeted that the language at the meeting had been "tough", but the words that were reported was "not the language used".

Photo Courtesy of Twitter
Oprah at the 2018 Golden Globes: After Seth Meyers joked that Oprah should run for presidential office in 2020 during his opening monologue, and Oprah's Cecil B. DeMille Award speech, the internet began to question whether this was something that may become a developing possibility. Yet, others began to debate whether she would actually run. Oprah has not made any public statement on her intentions, according to the Washington Post.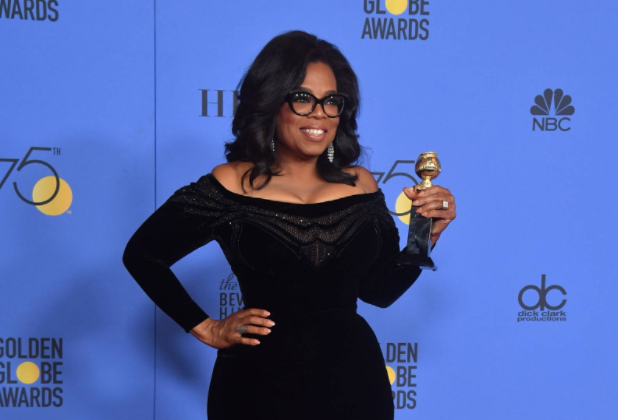 Photo Courtesy of Frederic J. Brown—AFP/Getty Images
Hawaiian Scare: An emergency missile alert was accidentally sent out to Hawaii on January 13 via cell phone, TV, and radio after someone "pushed the wrong button". The alert stated: "BALLISTIC MISSILE THREAT INBOUND TO HAWAII. SEEK IMMEDIATE SHELTER. THIS IS NOT A DRILL." This alert had people believing a missile was minutes away from striking them for a total of 38 minutes before Hawaiian authorities assured it was a false alarm. It happened in an emergency notifications bunker, where during a real attack, they'd issue the alert that would notify citizens immediately. But during a test, someone hit a wrong button, and then another button that reconfirmed the alert to be sent to Hawaiians. The Hawaiian government is concerned that it took as long as 38 minutes to alert citizens that it was a false alarm, where it would only take 20 minutes for a missile from North Korea to hit the islands.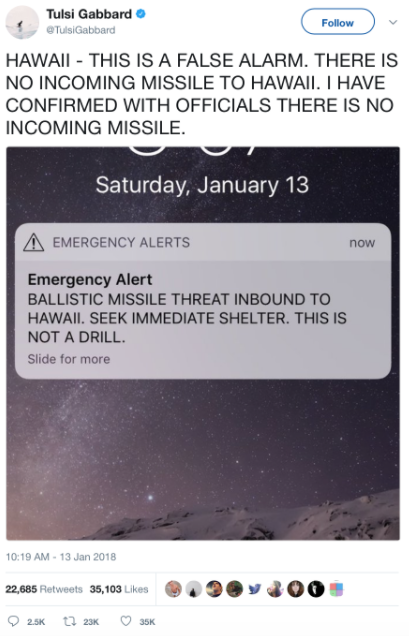 Photo Courtesy of Twitter
H&M's Advertisement Apology: On January 8, H&M posted a product on their UK webstore where a young black boy was modeling a green sweatshirt that read, "coolest monkey in the jungle". Rapidly angering many, including celebrities such as the Weekend, H&M was slammed with accusations of posting racist advertisements. "We sincerely apologize for this image. It has been now removed from all online channels and the product will not be for sale in the United States. We believe in diversity and inclusion in all that we do, and will be reviewing our internal routines," H&M later told CBS MoneyWatch in an apology. The mother of the model, Terry Mango, took to social media and told people, "stop crying wolf all the time, [it's] an unnecessary issue … get over it." Since the incident, many stores in South Africa have been vandalized by angry customers. H&M is aware of the events and, in response, closed South African stores to preserve the safety of their customers and employees. "We continue to monitor the situation closely and will open the stores as soon as the situation is safe again." H&M said in a statement found on their website. "We strongly believe that racism and bias in any shape or form, deliberate or accidental, are simply unacceptable."
Tide Pod Challenge: With all the popular challenges, the latest is the Tide Pod Challenge, where teenagers have been posting videos where they attempt to eat a Tide Pod. Ingesting laundry detergent chemicals has led to many health complications, some so severe that 20 teens have died from challenge. As the challenge has grown in popularity, health officials have advised teens to stop the challenge and not ingest any toxic chemicals. Tide, themselves, have also spoken out on their Twitter encouraging people to stop eating the product and use it for its appropriate purpose.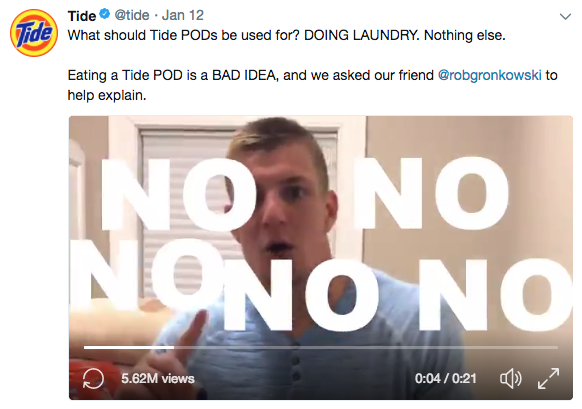 Photo Courtesy of Twitter
About the Writer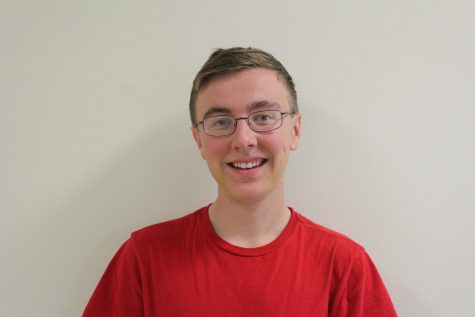 Adam Hartzer, Editor-in-Chief
Adam Hartzer is a senior at Lakes Community High School. It is his second year on the Talon Times staff and is the Editor-in-Chief. He is involved in the...