Lakes Prepares for Heavy Rushing @ Wauconda
Hang on for a minute...we're trying to find some more stories you might like.
The Lakes Community High School football team notched its first mark in the win column for the season with a 31-14 victory over conference rivals Grayslake North. Head Coach Luke Mertens believed his team accomplished their goal of execution on defense and a strong ground game on offense.
"I thought we had a nice combination of team defense and rushing offense," Mertens said.
The rushing offense was working for the Eagles and they stuck with it with about 80 percent of their offensive plays being runs producing 168 yards of offense. In their arial game, Lakes completed all but one of their pass attempts accounting for 170 yards. Though the game heavily revolved around the run game, moving forward, Mertens will call the plays based on what is necessary at the time.
"Honestly, [you] never really know. Sometimes our opponents take one aspect of our offense away, which means we need to focus on another," Mertens said. "In a perfect scenario, we will be a balanced offense."
On the other side of the ball, the Eagles made great strides holding Grayslake North to only 14 points compared to the past two games when they gave up a combined 82 points. Junior linebacker Ethan Schmidt credits the teamwork to their success.
"We just worked more as a unit this week. Last week and in the weeks before it was all like one player trying to make a play," Schmidt said. "This time we came together as a team and all our supporting roles together helped us win."
Preparing for their next game against Wauconda, Lakes wants to do much of the same according to Schmidt.
"[We are expecting] a lot of hard running and  a lot of misdirection but we are going to take that just like we took North and we are going to play as a team and that's going to really help," Schmidt said. "If one guy has a hole open and he needs another guy to support him so we are going to come support our teammates and win this game as a whole."
Mertens believes that the front seven defensive players will be the key to success on defense.
"They have a very powerful run game, so we will need to be very physical with the front seven to be able to slow down their rushing attack. If we aren't, then it will be a long night for us," Mertens said.
This week will be the first away game for the Eagles. Mertens acknowledges that it will be a different environment for his team.
"It's always better to play at home. It is difficult to get on a bus and be able to maintain the mental edge needed to play football. This game will be a huge challenge for us both mentally and physically," Mertens said.
Lakes will play Wauconda at Wauconda High School at 7:15 p.m. on Sept. 16.

About the Photographer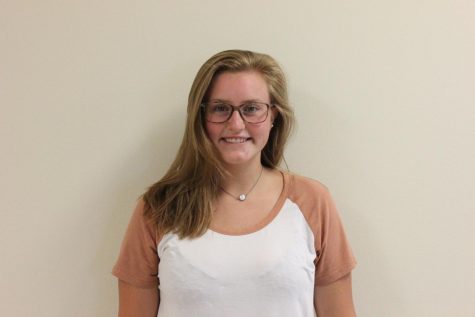 Kelly Scheuring, Editor-In-Chief
Kelly Scheuring is a Senior at Lakes Community High School. This is her third year on staff and is taking the position as Co-Editor-In-Chief. Kelly wants...