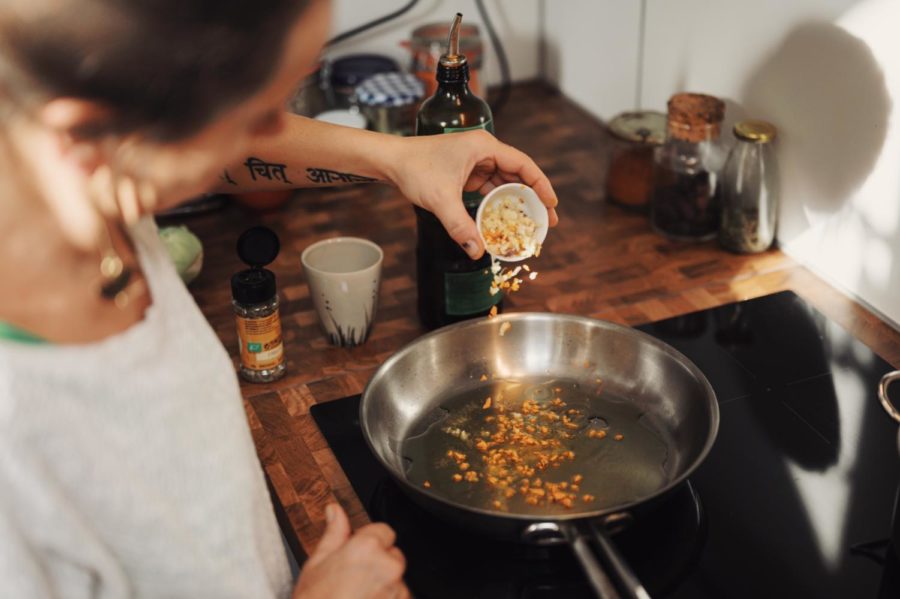 The internet is a great place to find information on anything, considering almost anyone can share their thoughts, experiences, tutorials, and even recipes. That being said, it comes as no surprise that people have been showing off their recipes on popular video-sharing sites. In just under a minute, a complete stranger can show you the best way to cook a steak or make the best tasting brownies. One pasta recipe, in particular, took over the internet, and that was the Baked Feta Pasta. It looked simple enough, so I thought I would try it out myself and share my experience with you.
I would first like to preface that I am in no way a cook; my skill level when it comes to cooking is following the directions on an easy-to-make box and knowing how to make mac and cheese. Thankfully, I had a few people that were able to help me while I made the pasta.
There are many different variations of the recipe all over the internet, with some calling for minor garnishes or small flavor changes; but, for the most part, they are all the same. The one that I chose to follow was from Delish.com, a famous cooking website where users can rate other's shared recipes.
To begin with, I collected most of the ingredients the recipe called for, they are as listed below.
2pt. Cherry or grape tomatoes
1 shallot, quartered
3 cloves garlic, smashed (optional)
½ c. extra virgin olive oil, divided
Kosher salt
Crushed red pepper flakes
1 (8-oz.) block feta
3 sprigs thyme
10 oz. pasta
Zest of 1 lemon (optional)
Unfortunately, I missed the pepper flakes, the lemon zest, and decided to leave out salting the water. I don't think it made too much of a difference. The directions were listed below straight from Delish.com.
Preheat oven to 400°. In a large ovenproof skillet or medium baking dish, combine tomatoes, shallot, garlic, and most of the olive oil. Season with salt and red pepper flakes and toss to combine.
Place feta into center of tomato mixture and drizzle top with remaining olive oil. Scatter thyme over tomatoes. Bake for 40 to 45 minutes, until tomatoes are bursting and feta is golden on top.
Meanwhile, in a large pot of salted boiling water, cook pasta according to package instructions. Reserve ½ cup pasta water before draining.
To skillet with tomatoes and feta, add cooked pasta, reserved pasta water, and lemon zest (if using) to skillet and stir until completely combined. Garnish with basil before serving
As I am not a cook, I found these directions to be very vague, and other recipes tended to be more helpful and explicit. I found this one to be very jumbled. For instance, the first direction calls for a skillet or medium baking dish, when in actuality, you need both; it is not an 'or' situation. Another problem I had with these directions was that basil was not included in the ingredients list, but is called for as a garnish. It lacked important details such as how long the ingredients should be in the skillet. Maybe following this particular recipe would have been easier if I was more experienced? In hindsight, I should have found a more detailed recipe.
Although following the vague directions wasn't the easiest, the pasta was a success in my household. My mom, who is not a huge fan of feta cheese, loved the dish and even went for a second helping. In my opinion, the flavor was well-balanced and I enjoyed it as well. Since my family really liked it, I will definitely be making it in the future.