This year's NFL draft has been a nice distraction away from everything going on in today's world, and the league has done their due diligence to make this all possible. Although the event was scheduled to be in Vegas, coronavirus concerns led to its cancellation and required managers and coaches to have to conduct the draft from their own homes. All of the draft-eligible players involved were told to stay home as well. It's less than ideal, but the NFL is working hard to keep everyone on schedule, allow these athletes' dreams come true, and even give sports fans across the country some sense of normalcy. This is the largest sporting event to look forward to in quite a while, and the NFL is using the draft's platform for a great cause. It's an all-around effort to raise money for charity and give back to those who are affected by coronavirus and they've endorsed the three day event as "Draft-A-Thon".
Here's a run down of everything that happened on day one and a short recap and analysis of each first round selection:
1) Cincinnati Bengals:  Joe Burrow,  Quarterback,  LSU

As expected, the Bengals grab the top prospect in the class. Burrow's historic, record-breaking season, injects new hope into a franchise that has yet to win a playoff game this century.
2) Washington Redskins:  Chase Young,  Edge Rusher,  Ohio State

The only other projected 'lock' of the night comes to fruition as well. Young has been linked to Washington since the beginning of this whole process, and it comes to no one's surprise as the Redskins fortify their defense, snatching up arguably the best player in this draft.
3) Detroit Lions:  Jeff Okudah,  Cornerback,  Ohio State

After the Lions were unable to trade back from the three spot, they decide to pick up Okudah who fills the void at corner for Detroit. Well-represented Ohio State teammates go back to back here at the top.
4) New York Giants:  Andrew Thomas,  Tackle,  Georgia

New York spiced things up here in taking the underrated choice of the offensive tackle group in Andrew Thomas. He doesn't possess the upside of the other top tackles, but it's clear GM Dave Gettleman instead wanted to draft someone someone like Thomas who is more polished and pro-ready.
5) Miami Dolphins:  Tua Tagovailoa,  Quarterback,  Alabama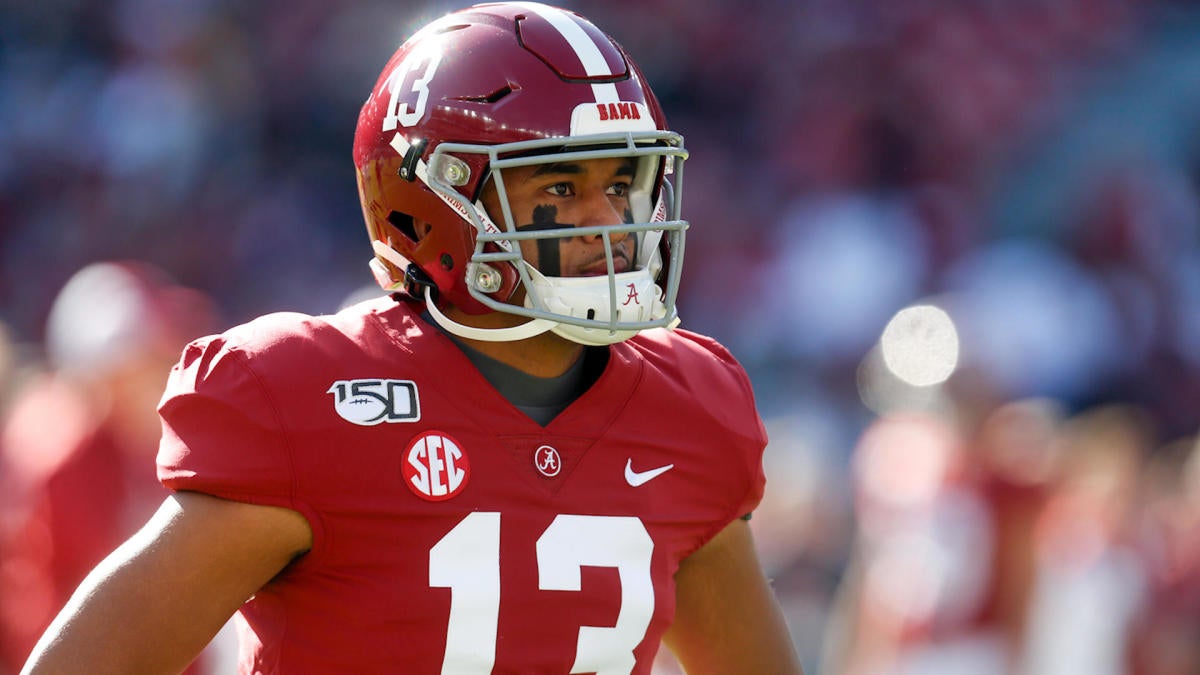 The Dolphins did a fantastic job in keeping their draft plans under wraps. No one had any idea where they were going with the fifth pick, and so it turned out, they selected Tua. He was the second QB taken in this draft and looks to be a great sign for Miami's future.
6) Los Angeles Chargers:  Justin Herbert,  Quarterback,  Oregon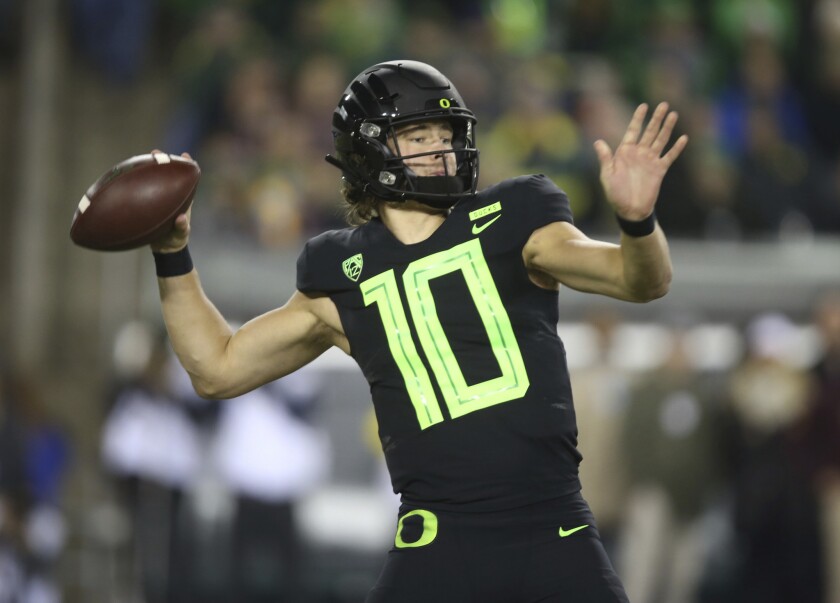 After being linked to Miami for some time, and after LA insisted they were confident in their current QB, Tyrod Taylor, Herbert still lands with the Chargers. The Oregon QB has the arm, has the athleticism, and has the size, but it remains to be seen how he'll fare as a team leader in the NFL.
7) Carolina Panthers:  Derrick Brown,  Defensive Tackle,  Auburn

New Head Coach, Matt Rhule, with his first pick goes with a big man, and a big time player. There's no doubt Brown is one of the top two best defensive tackles in the class.
8) Arizona Cardinals:  Isaiah Simmons,  Defense,  Clemson

Cardinals hit a home run with this selection. They went against the grain, but came away with the most intriguing player in the draft. Simmons is a multi-dimensional, new-age defender that can legitimately play anywhere on the field.
9) Jacksonville Jaguars:  CJ Henderson,  Cornerback,  Florida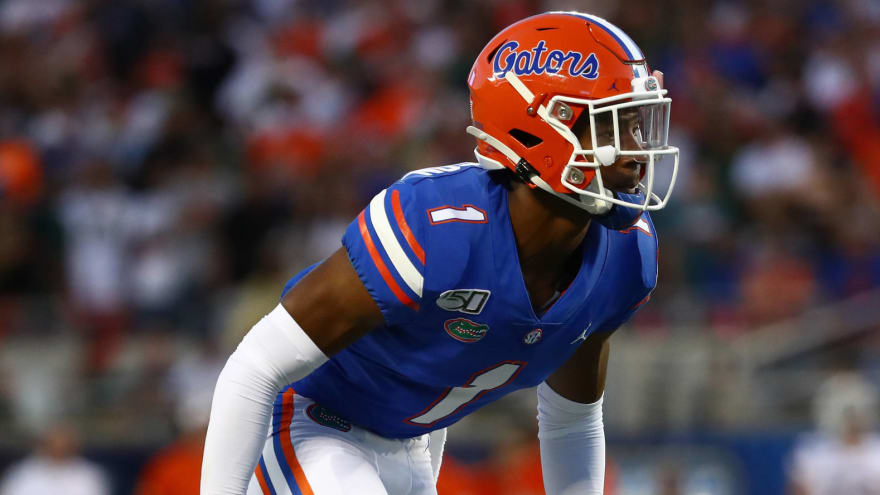 The dominoes continue to fall at pick number nine, with the Jags taking the other highly-coveted corner in the class, CJ Henderson. He'll play a huge role in Jacksonville right away as they've got some shoes to fill after the departures of Jalen Ramsey and AJ Bouye.
10) Cleveland Browns:  Jedrick Wills,  Offensive Tackle,  Alabama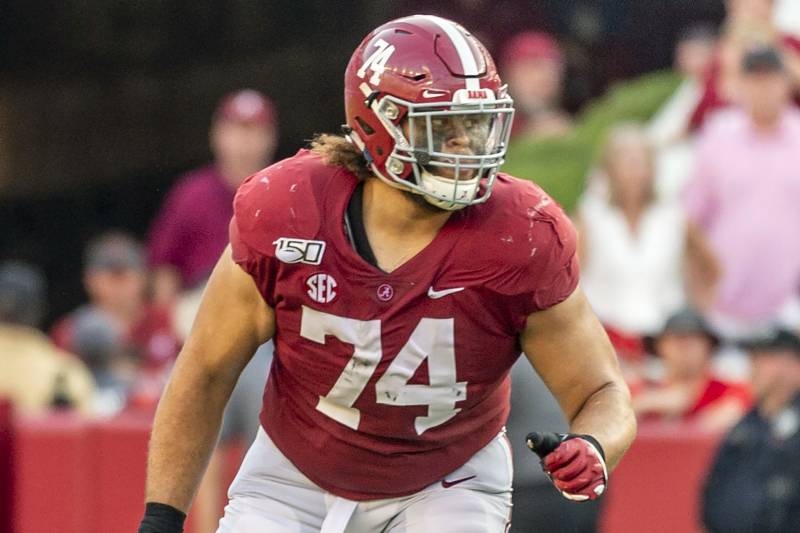 The league is trending towards favoring more athletic offensive tackles, and Wills is the perfect prototype. He's got great athleticism, power, and quickness for someone his size, as Cleveland plugs one of their largest holes with their top selection.

11) New York Jets:  Mekhi Becton,  Offensive Tackle,  Louisville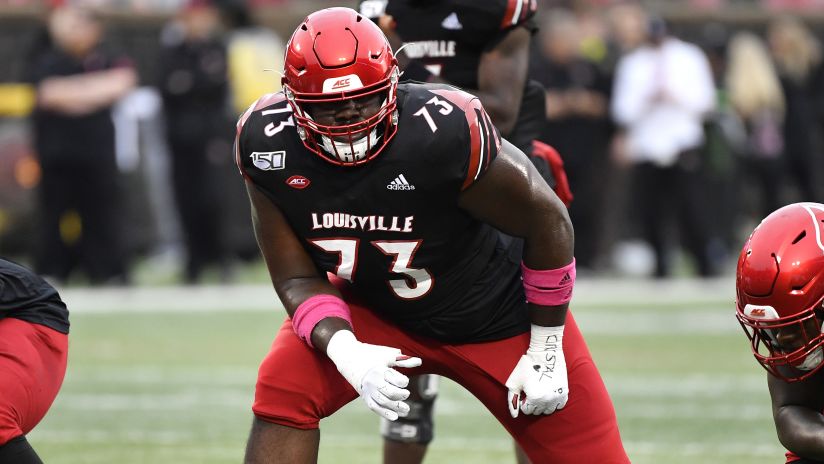 Jets grab an enormous specimen whose measurables are off the charts. Mekhi Becton stands just over 6 feet 7 inches, weighing a solid 364 pounds. He's the heaviest player in the class, yet somehow ran an impressive 5.10 second 40-yard dash at the NFL Combine. 
12) Las Vegas Raiders:  Henry Ruggs III,  Wide Receiver,  Alabama

From one fast positional player to another, Ruggs is faster than fast. He ran faster than anyone in this draft, and he's also a smart runner who has great instincts to go with it. He's a trackstar with rare versatility, and a lot of potential.
13) Tampa Bay Buccaneers (via SF):  Tristan Wirfs,  Offensive Tackle,  Iowa Bucs trade up here to grab their own big man to protect newly acquired GOAT: Tom Brady. Wirfs was a very accomplished track and field athlete in high school, and his athleticism carried over to the college level. He should transition easily into the pros as well. 
14) San Francisco 49ers (via TB):  Javon Kinlaw,  D-Tackle,  South Carolina

The other top D-Tackle: Javon Kinlaw. He's a got a great motor for someone his size and gets off the ball well. He can bull rush, he can beat you with quickness, he's got a lot of tools in his bag. 49ers select him to replace DeForest Buckner, whom they traded to acquire this pick.

15) Denver Broncos:  Jerry Jeudy,  Wide Receiver,  Alabama

John Elway and his staff ecstatic at the fact Jeudy fell into their lap at 15. It's easy to see him translating well to the NFL given his impressive performances against the top secondaries in college.
16) Atlanta Falcons:  AJ Terell,  Cornerback,  Clemson A great man-to-man cornerback, AJ Terell has a special ability to shadow receivers. He's very disruptive and has all the traits to be a quality starter in the NFL. Falcons needed a corner, and they got themselves one.
17) Dallas Cowboys:  CeeDee Lamb,  Wide Receiver,  Oklahoma

Not many draft experts would've predicted CeeDee Lamb slide this far. It's safe to say the Cowboys are totally fine with it though. Lamb will serve as another terrific pass catching option opposite pro-bowl wideout, Amari Cooper, in Dallas.
18) Miami Dolphins:  Austin Jackson,  Offensive Tackle,  USC

Austin Jackson was one of the youngest players to get drafted Thursday night at only twenty years old. Aside from being a great football player, he's been an inspiration for many others after saving his sister's life by donating his bone marrow to her.
19) Las Vegas Raiders:  Damon Arnette,  Cornerback,  Ohio State

One of the most surprising picks of the entire first round. Here at 19 this pick has 'reach' written all over it. In a deep corner class, the Raiders made Arnette the fourth one chosen while most experts forecasted him as a lower-end day 2 selection. Still could turn out to be a quality player, but a surprise nonetheless.
20) Jacksonville Jaguars:  K'Lavon Chaisson,  Edge Rusher,  LSU

The Jaguars cap off a solid first round by ensuring two top end defenders will be headed down to Duval County. K'Lavon Chaisson has had the luxury of competing with and against NFL talent already, and projects as a great pass rusher at the next level.
21) Philadelphia Eagles:  Jalen Reagor,  Wide Receiver,  TCU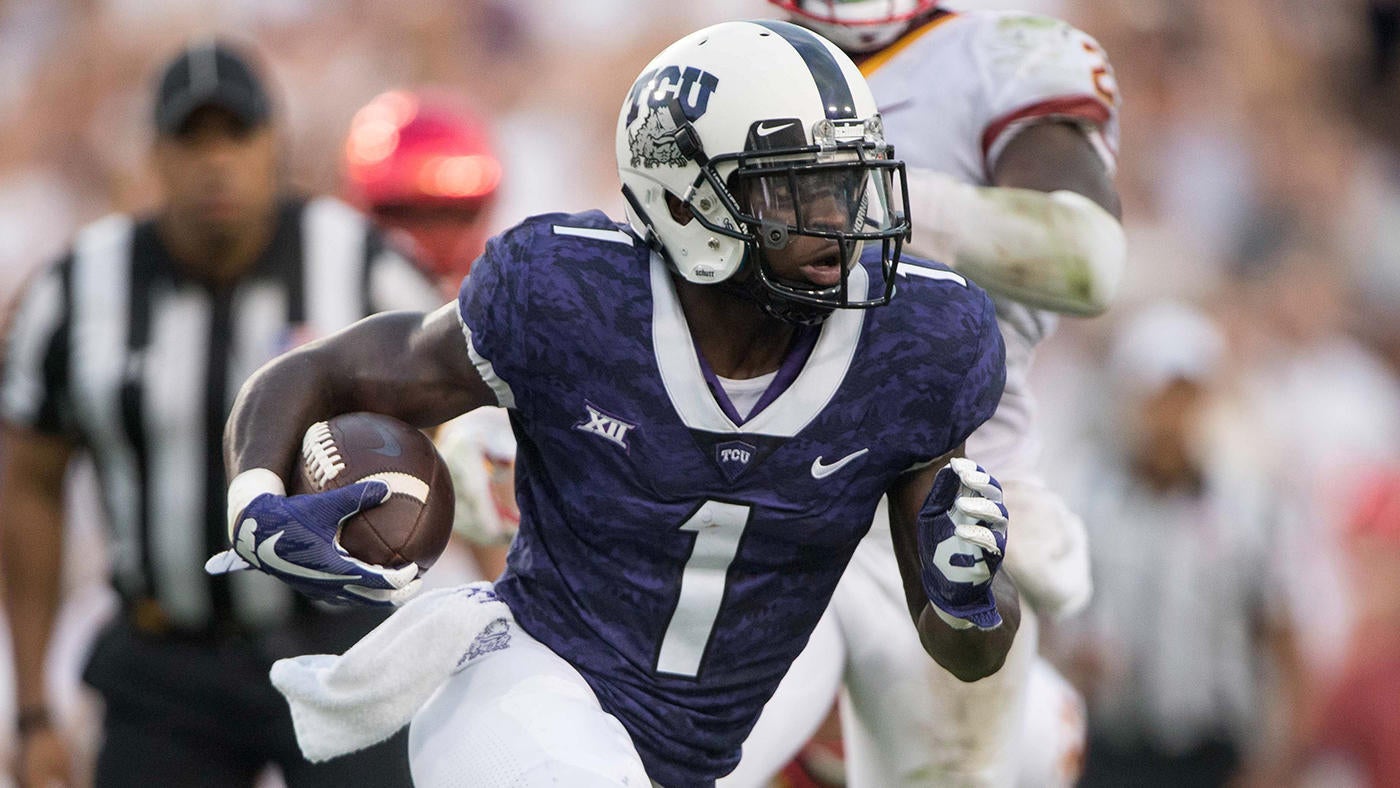 Well another surprise here at 21 with the Eagles taking Jalen Reagor OVER Justin Jefferson. While Reagor has the speed and is dynamic after the catch, this decision left many questioning why Philly would go with Reagor instead of the other top receivers this draft has to offer.
22) Minnesota Vikings:  Justin Jefferson,  Wide Receiver,  LSU

Justin Jefferson scored four touchdowns against Oklahoma in LSU's playoff game. In just the first half. Thus why he's holding up four fingers in this picture. Minnesota got a stud. He's shown that in college, and he'll prove that in the NFL.
23) LA Chargers (via NE):  Kenneth Murray,  Linebacker,  Oklahoma

Every time anyone who covers the draft brings up Kenneth Murray, they always make a point to illustrate how great of a person he is off the field. He has three autistic siblings that he has guided through life, and loves playing the game of football for them. On the field, he's more passionate than anybody. Chargers made sure to trade up and get him.

24) New Orleans Saints:  Cesar Ruiz,  Offensive Lineman, Michigan

The Saints could've gone anywhere at this spot really, and they chose to go with the top interior offensive lineman in this draft in Cesar Ruiz. We can only speculate, but New Orleans was probably targeting Murray. Despite that, Ruiz is a fantastic consolation prize.
25) San Francisco 49ers (via MIN):  Brandon Aiyuk,  Wide Receiver,  ASU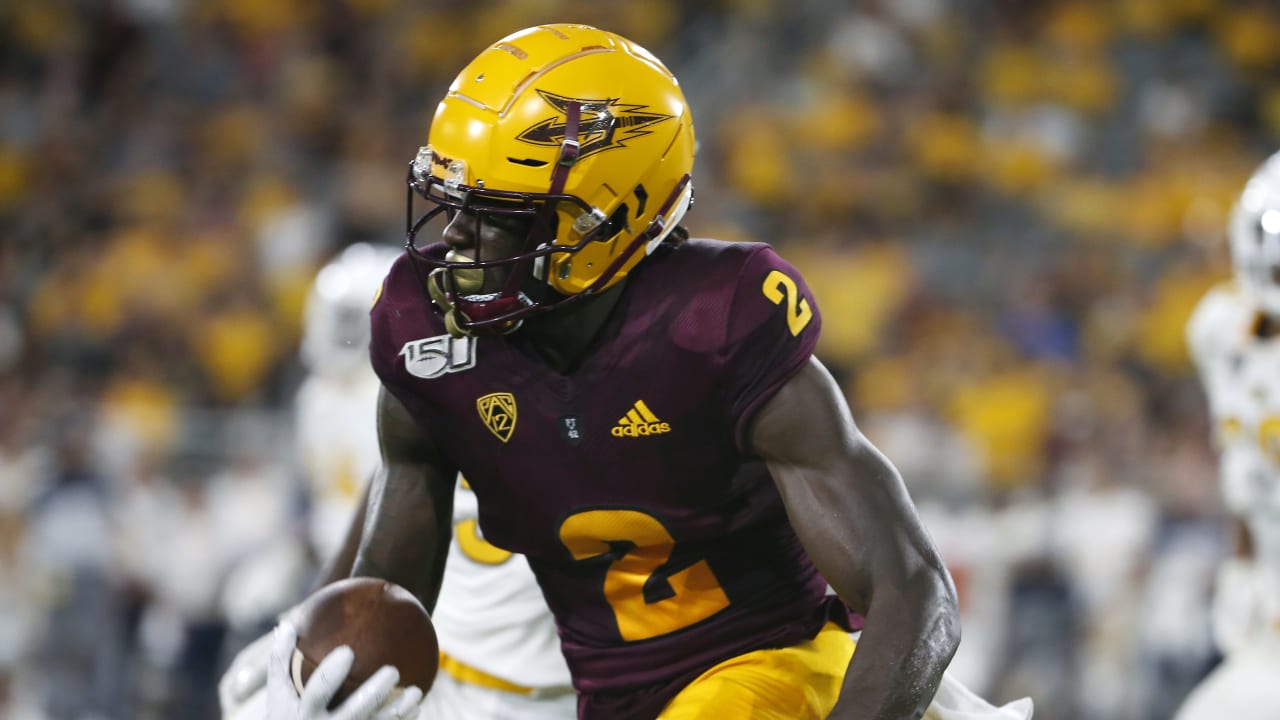 The Niners, after trading back with their first pick to replace Buckner, trade up with the second first round pick to grab Aiyuk as a means to replace Emmanuel Sanders. Similar to Reagor, Aiyuk is great after the catch and excels at creating big plays.
26) Green Bay Packers (via MIA):  Jordan Love,  Quarterback,  Utah St.

Jordan Love took a step back this year in college, but has been drawing comparisons to Mahomes. The Packers like the sound of that, and are willing to take a chance on him even with Aaron Rodgers still being there. Inevitable QB controversy upcoming in Green Bay.
27) Seattle Seahawks:  Jordyn Brooks,  Linebacker,  Texas Tech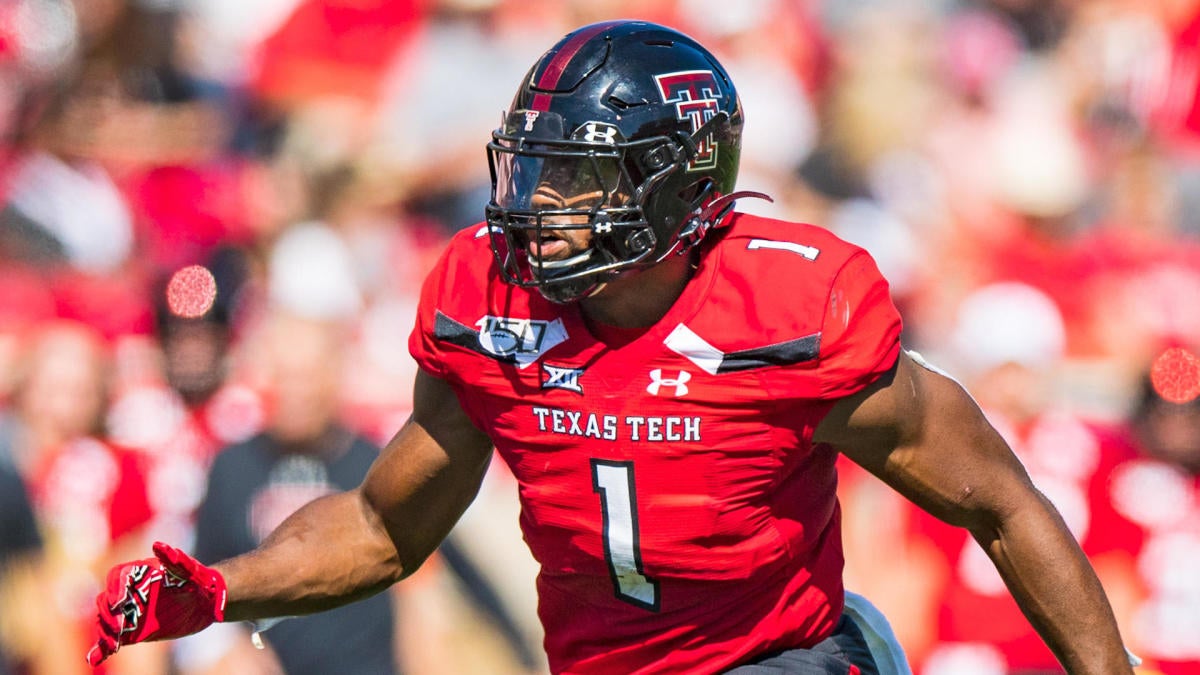 A typical Seahawks move. No disrespect to Jordyn Brooks, but if anything he graded out as a solid mid rounder, not a first. Seattle pulls the strings like this every year, and this one somehow makes even less sense than normal. They stocked up on linebackers in free agency, and have much more pressing needs at almost every other position on their roster.
28) Baltimore Ravens:  Patrick Queen,  Linebacker,  LSU

Now this is a great pick. One of the best linebackers this class has to offer, and Queen is exactly what the Baltimore Ravens need to stay in the mix this year.
29) Tennessee Titans:  Isaiah Wilson,  Offensive Tackle,  Georgia

Jack Conklin, a four year starter at right tackle for Tennessee, left for Cleveland this offseason. Enter Isaiah Wilson, he'll be among the guys up front for the Titans paving the way for all-world running back, Derrick Henry.
30) Miami Dolphins (via GB):  Noah Igbinoghene,  Cornerback,  Auburn

A bit of a surprise. After trading back from 26 to 30, Miami selects Igbinoghene while not having any real need for corners right now. In their defense, it seems as if the Dolphins are looking to strengthen their biggest strength. You can harp on Noah's upside and athletic background all that you want, but Miami has a lot of holes that need patching, and none of them got addressed here.
31) Minnesota Vikings (via SF):  Jeff Gladney,  Cornerback,  TCU

The Vikings came into the draft in an absolute dire need of corners. Luckily for them they got one in Jeff Gladney who's versatile and can play well in both man and zone coverages. He's a solid addition for them.
32) Kansas City Chiefs:  Clyde Edwards-Helaire,  Running back,  LSU

"An embarrassment of offensive riches", exclaimed ESPN analyst, Kirk Herbstreit, after this pick. The defending Super Bowl Champions just keep stacking the chips on their offense. As if they didn't already have enough weapons, bringing in Clyde adds yet another one to KC's attack.