Eliud Kipchoge's Marathon Record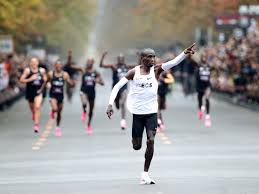 Jack Engel, Feature Editor and Business Manager
October 28, 2019
Running has always been a counter-culture sport, and not known for being glorified or exaggerated. However, recently the sport has reached a new bracket of possibilities grabbing the attention of millions. Eliud Kipchoge, former 5000-meter Olympian, and now professional marathon runner, has been on a mission to complete a marathon in under 2 hours. This has seemed like an untouchable barrier in world athletics. Despite all the criticism of whether or not the time is achievable, Kipchoge has had close attempts with running times of 2:04:17, 2:01:39, and 2:02:37. Even though these times seemed to be so close (but yet so far away), this didn't stop Eliud from continuing to beat the record.
Differing from his previous common attempts, Eluid set up an event to break the record, naming it "Ineos 1:59 Challenge". In this event, everything was set up for Kipchoge to break the record. The 2.6 miles of long, flat, straight land that goes right through the heart of Vienna, covering the running convoy from any wrong crosswinds. Throughout the marathon, Kipchoge had ways to help him stay on pace to break two. Kipchoge was accompanied by a team of elite runners that would tag into the race at set checkpoints. Kipchoge and his team then followed an electric-powered pace car that projected a green light beam, and showed how far they should be following. In addition to these pace setters, Kipchoge wore special, unreleased, Nike marathon road flats (shoes).
The IAAF chose not to recognize this record just because of the extra help; this seems to be a common criticism with many people. However, It does not stop Kipchoge and the rest of the world from celebrating this amazing achievement. Thank you Kipchoge for proving anything is possible.