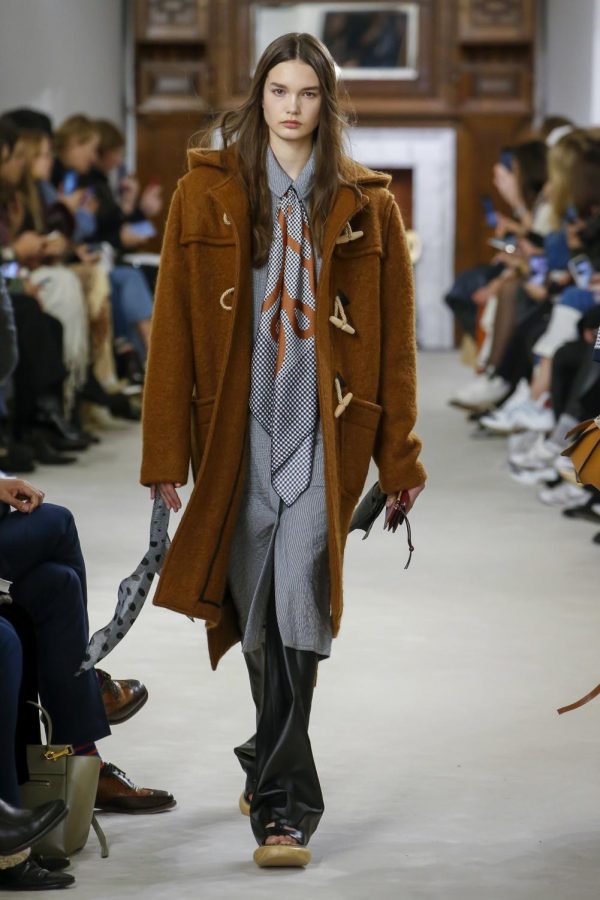 Photo by Marcus Tondo, courtesy of Vogue
     As the mornings grow darker and the taste of a perfect pumpkin spice latte becomes ever more enticing, the fashion trends of this festive season are in full swing. Designers all the way from Balenciaga to Zara have set the styles this season as a response to both to contemporary global affairs and the reoccurring themes in fashion. For Fall 2018 the major trends to watch for are militarism, 80's, western, plaid/checkered, and florals.
80's Style
Already a popular style trend, love of 80's fashion continued with bright colors, bold patterns, oversized pieces, and collared shirts.         
Western Aesthetic
Diverging from other contemporary silhouettes and designs, the western aesthetic is often displayed with denim, leather, suede or shearling pieces, corduroy, embroidered or hand-knitted pieces, and prairie style dresses.
Militarism & Uniformity
Though a major part of 80's style, collections across the board had a major emphasis on this specific fashion trend with monochromatic looks, shoulder pads, jackets, and combat boots.
Plaid & Checkered Design
Beloved by many, plaid and checkered prints were seen in almost every major collection though varying in style, color, and accompanying pieces.
Floral Prints
Florals? In Fall? Groundbreaking. While not typically associated with the cooler seasons, florals were seen as either detailing or complete pieces in numerous shows and were usually accompanied by a dark background or separate piece.